Post Content
Edge City, 8/6/13

Oh hey it's Edna and Morris Not-Ardin, off to visit America's battlefields in their new RV. I hope they have fun and all, but what is the deal with this guy's face? Has he got two mouths? An extra ear, with teeth? Is he some kind of weird Mr. Magoo/Popeye hybrid? Is that an enormous chaw of Mail Pouch parked in what just might be his cheek? For me, his image keeps flipping back and forth like one of those ambiguous figures from Psych 101: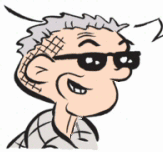 Edna lets it all pass. She's got her own problems, coping with the oral aftermath of her horrific trombone accident.
Hi and Lois, 8/6/13

And then one day, Hi Flagston just gave up. "Fetch me the gin, Lois."
Apartment 3-G, 8/6/13

Margo snuffs out an alarming flicker of empathy as she spins around the room.
Judge Parker, 8/6/13

I only read Judge Parker for the articles, but here's some eye candy — and a challenge — for the oglers in the audience. The challenge is this: do oglers of pretty comic-strip women ogle other representations of pretty women, such as mannequins? If so, would they ogle drawings of mannequins, such as those presented in panel one? Are features like heads and knees essential to this exercise? And how far does it go, the ogling: would it extend to a photo in a cartoon of a sketch of the shadow of a statue of a woman? What role does the quality of representation play, relative to the attractiveness of the original subject? I have to say, Judge Parker wouldn't have been my first source for a deconstruction of male gaze theory, but there you have it.
Rhymes with Orange, 8/6/13

Lady, your problem is not the obsolete phone — it's the renegade car.
---
I'm filling in while Josh is on vacation through next Tuesday. No fundraiser this time around, but contact me at uncle.lumpy@comcast.net if the site starts acting up. Enjoy!

— Uncle Lumpy