Post Content
Mark Trail, 9/15/13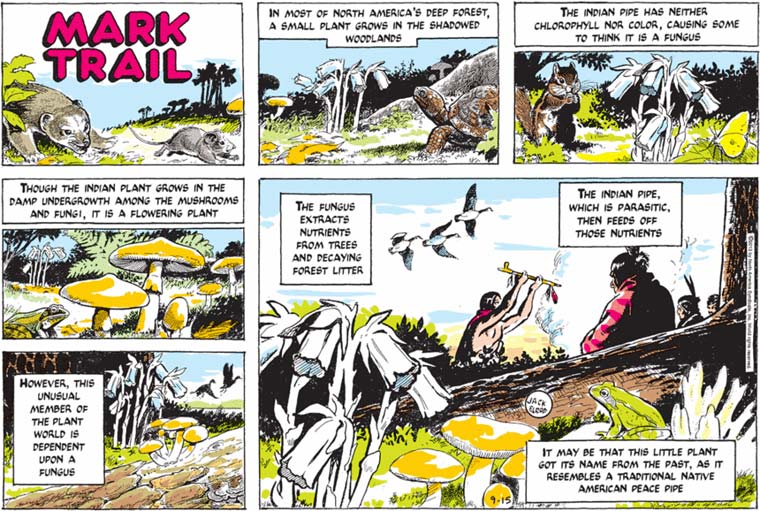 Did this little plant get its name from the past? That may be the case. It's possible, sure. But isn't it just as possible that it got its name from the future? After all, the Indian Pipe bears a strong resemblance to the 60-mile-high towers that were built in the southern foothills of the Himalayas in the late 21st century, which harvested charged particles from the ionosphere and provided the cheap energy that catapulted India's economy to #1 in the world by 2110. Add in the successful time travel experiments conducted at the Indian Institute of Technology in the mid 2090s, and this theory is sounding more and more probable.
Family Circus, 9/15/13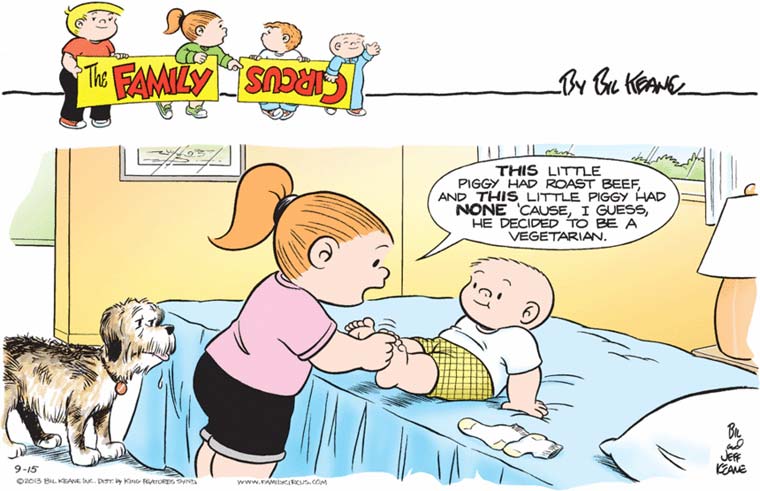 Today's Family Circus is a commentary on modern American affluence: the Keane Kids have never once in their lives had empty bellies, and can't even conceive of anyone going hungry involuntarily, thus forcing them to recontextualize the ancient nursery rhyme. But there's one Keane family member who knows all about want, and that's Sam the dog. Presumably Sam's care has been placed in the hands of the children, in an misguided attempt to teach them "responsibility," and meals have been pretty irregular ever since. Sam would chew off all of PJ's toes without a second thought. Sam would eat all the Keane Kids, if they would just hold still for long enough.
Shoe, 9/15/13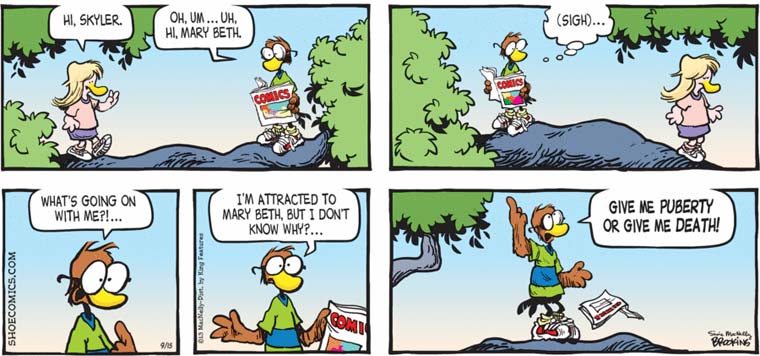 The comics pages that Skyler is so ostentatiously reading add a real note of poignancy to this strip. Skyler is trapped in comics time, an eternal present. He's never going to get past the opening salvos of the sexual awakening he's experiencing right now; and, as long as the syndicate can find artists who can more or less approximate Jeff MacNelly's style, he will never die.
Panel from Better Half, 9/15/13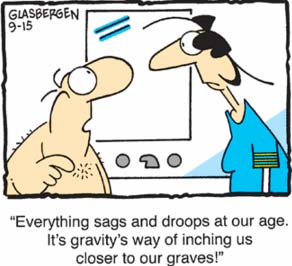 HERE IT IS EVERYBODY, THE MOST DEPRESSING BETTER HALF EVER, LET'S JUST GO HAVE A NICE LIE DOWN NOW FOR THE REST OF THE DAY