Post Content
Apartment 3-G, 2/26/14

There's been some suspicious chatter in the comments about the possibility that Tommie's fiancé might not actually exist. Sure, we've seen him, but we also saw the mysterious ghost who forced Lu Ann to make all those crappy fern paintings, and he just turned out to be a byproduct of the carbon monoxide poisoning she developed from working in a poorly ventilated studio. Couldn't terrible loneliness be an even more powerful spur to hallucinatory lunacy than oxygen deprivation? Tommie's reckless food overpurchases certainly indicate a kind of panicked mania. "Yep, enough food for seven men! Of which my fiancé is definitely one! Not a figment of my imagination! Not a story that I thought nobody would ever be able to confirm or deny! A real, flesh and blood human man who wants to marry me! Ha ha! Hope you like things that come out of brightly-colored boxes!"
Mary Worth, 2/26/14

Looks like Tommy's had a political awakening in the joint! No matter how badly he needs a job, he recoils in disgust at the thought of helping some vast megaretailer conglomerate crush the struggling mom-and-pop stores the still cling to life along Santa Royale's scenic shopping/fish-gutting district down by the pier. Or maybe he's just worried that his sobriety will be in trouble because the Santaroymart warehouses a den of drug depravity, if I correctly remember that the hilariously botched and laughably named drug bust "Operation H-Town" went down there.
Better Half, 2/26/14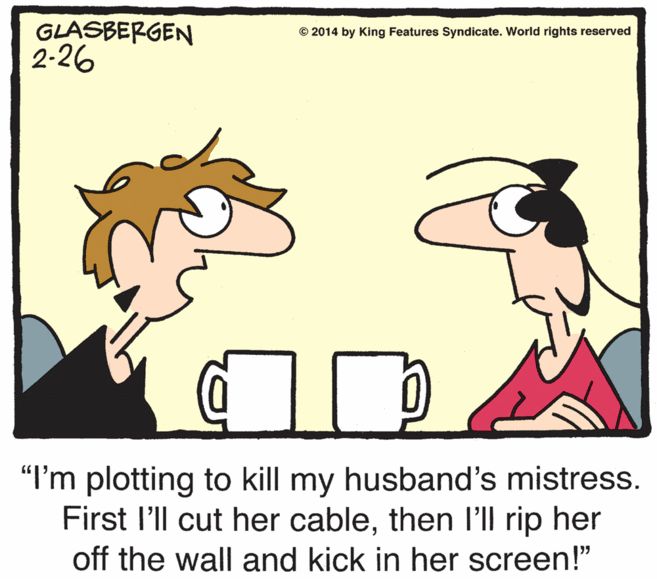 Sure, it'll probably set her back thousands of dollars, but when you come home and find your husband sticking his dick in your home entertainment system, you can be forgiven for reacting strongly.
Herb and Jamaal, 2/26/14

Like when there's nobody else in the room, for instance!