Post Content
Apartment 3-G, 3/28/14

God bless Lu Ann Powers and her willingness to embrace the utter ontological uncertainty of existence that most of us desperately try to keep at bay at all times. Are there towns up the Hudson from New York that sometimes exist, but then sometimes don't? Maybe! It's a crazy world! Object permanence is an illusion our minds create so the constant quantum flux of our universe doesn't drive us insane! Will somebody find a "home" for a baby deer, even though nobody keeps deer as pets, because they're wild animals who live in the woods? It could happen! She's a very pretty deer! Or at least she seems so to me! We cannot trust the evidence of our senses!
Dennis the Menace, 3/28/14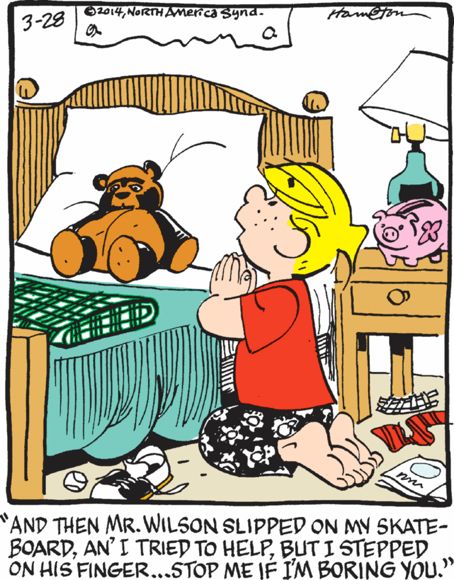 Oh, come now, Dennis, don't be coy! God revels in tales of carnage! Have you read the Old Testament? It's all smiting this and plagues that and turning temples of rival gods into mass graves/public toilets. Tell him everything and spare no details!
Family Circus, 3/28/14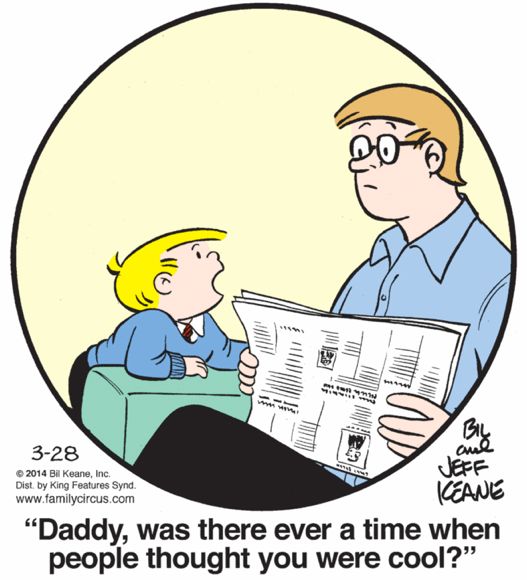 That's some pretty sassy talk from an eight-year-old wearing a dress shirt and tie under a powder blue sweater, Billy.
Gil Thorp, 3/28/14

Well, it looks like we've hit our Spring Storyline Meet-Cute, where Lucky Haskins and Amy Lange will find true love if they don't accidentally stab each other in the throat first. Also, did you know that wealthy people with very specific fetishes — languorous noodle-slurping, say — will pay good money to artists to "hide" images they find erotic in plain sight in newspapers across America? I brought that fact up for no particular reason.
Marvin, 3/28/14

don't think about Marvin doing "number three" don't think about Marvin doing "number three" DON'T THINK ABOUT MARVIN DOING "NUMBER THREE"