Post Content
Crankshaft, 6/4/14

Do you think comics artists ever get into Stockholm Syndrome situations with their characters? Do you think that they start off knowing that their characters are literally the worst, and yet because they have to drawn them, day after day, they eventually fall under their sway, and dedicate the energy and loving care to drawing their faces twisted into a hatefully, sullen grimace as, say, Leonardo put into the Mona Lisa? Anyway, I'm not sure if the joke here is supposed to be "ha ha, Crankshaft never saved up for retirement so he'll have to work until the day he drops dead" or "ha ha, Crankshaft is so full of angry restless energy that he has to find a job or else he'll be left alone with his own awful thoughts and feelings," but it is true that a job that involves greeting people pleasantly and putting them at ease is one for which he is profoundly unqualified.
Family Circus, 6/4/14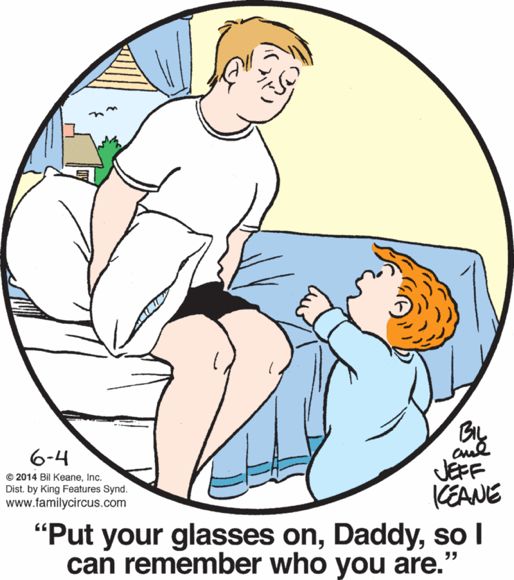 It's obviously unthinkable that Jeffy's moronic bit of non-wordplay could prompt even the sort of faint smile we see on Big Daddy Keane's lips. Therefore we must assume something else is going on here. My guess: he's pleased that his plan to create a Superman-style "disguise" out of his lack of glasses is finally working. (His only superpower will be the ability to trick his children into thinking that he's someone else just long enough for him to get out of the house and/or the state.)
Beetle Bailey, 6/4/14

When Shi Huangdi, the first emperor of China, died, he was on a tour of the provinces, a two-month journey away from the capital; his inner circle of advisors, concerned that the death of the sovereign would prompt civil war in the vast empire he had built, kept his death a secret, keeping his body in a carriage, ordering carts of dead fish to be placed in front of and behind it in the wagon train to mask the smell, bringing in documents and then forging his signature during the long journey. Also, I've never really pegged Miss Buxley as someone who cares enough about her boss's feelings to spare him the irritation of contact with underlings he dislikes. Put these facts and observations together as you will.
Gasoline Alley, 6/4/14

Looks like I'm not the only one who thinks that Boog's new paramour is up to no good! Check out all these other children who, like Boog, are so dim they need to have their names printed on their shirts, lest they forget. They're terrified of her. She's clearly going to eat Boog alive (not a euphemism).