Post Content
Gil Thorp, 7/16/15

Huh, for some reason I had thought football phenom True Standish was a senior, and had just blown into town to help Milford win the Valley Conference title trophy, aka "the Golden Cock," before graduating to become a backup quarterback at a second-tier Big Ten school for the next three years. But it looks like we've got another year of his laid-back, good-natured antics to go! Today I mostly like the way True's less-talented teammates are laughing it up in panel two. "Ha ha, you'll be courted by important people who can advance your career, while we'll hang out here drinking off-brand soda and watching other people jet-ski! High five!"
B.C., 7/16/15
The idea that our beloved (?) B.C. characters comprise the entirety of a tiny, isolated band of hunter-gatherers is probably the most accurate depiction of paleolithic humanity in this strip to date. Here's hoping the accuracy continues and we get a good look at what happens when power relations in a society without organized political structures shift: fratricidal violence.
Mary Worth, 7/16/15

Oh, OK, maybe this will be the drama behind this mysteriously still ongoing Mary Worth storyline: Adam is psyched to be working with Terry, while Terry is only kind of enh about it! This strip can squeeze another three to five weeks out of that for sure.
The Lockhorns, 7/16/15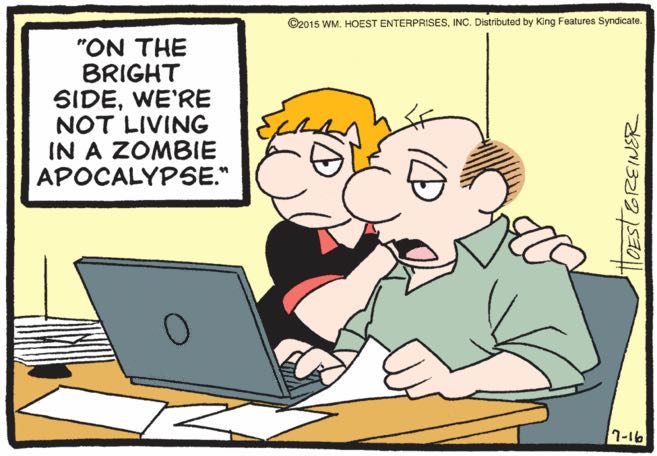 One of the main appeals of zombie apocalypse fiction — of apocalypse fiction of all types, really — is this: that though the world depicted is one suffering from terrible trauma, it's also one where the constraints of our current lives have suddenly been swept away. In all likelihood you'd be killed in the opening hours of the plague or uprising, of course, but there's a visceral thrill in imagining yourself in a new situation, with your boring money troubles and domestic squabbles vanished along with the restraints of traditional social morality. But the Lockhorns are so dead inside that even this mental escape is impossible for them. They know they live in the worst of all possible worlds, and that this is the only one there is.
Pluggers, 7/16/15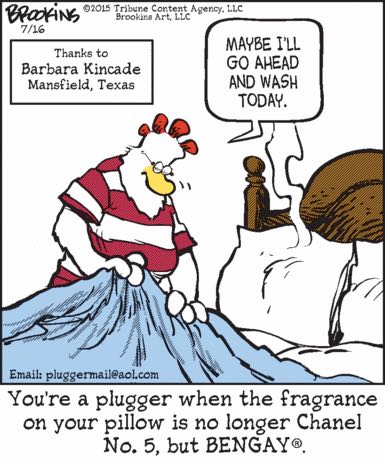 You're a plugger if you're extremely careful to respect the trademark rights of patriotic American companies like Johnson & Johnson, but the French communists who run Chanel can go fuck themselves.