Post Content
Gil Thorp, 10/21/15

Wait, so, they've already broadcast the first episode of this reality show without having figured out how they're shaping the storylines going forward? This makes me actively angry. Reality shows shoot hours and hours of footage over weeks and only then start sifting through it all to figure out how they're going to shape what appears on screen. That's how you create gripping drama out of the minutia of everyday life! You don't just shoot a few days and then throw something together and then (and here's the worst sin) let the subjects of the show watch it and then try to figure out what comes next! This why we should be mad at Holly and her crew: not because they're being mean to Gil or whatever, but because they're demonstrably bad at making a reality show.
Barney Google and Snuffy Smith, 10/21/15

Sure, Snuffy and his clan are notorious lawbreakers, but can you really judge them, considering that the legal system in Hootin' Holler is notoriously corrupt? Here we see the community's only magistrate auctioning Snuffy off to whichever flatlander for-profit prison will pay him the largest kickback.
Mary Worth, 10/21/15

"Time to catch up with my emails…"
From: web@theorganicgrocer.com.sg
To: Mary Worth Subject: Dear Winner

This is to Notify you has the lucky winner of this year lottery. Your e-mail address attached to ticket number: 7-1-8-36-4-22 under agent ID: 18 and lucky ball number 7363789,which subsequently won you the lottery in the 2nd category.
"Oh my! This is very exciting!"
You have therefore been qualified for a lump sum payout of One Millions (£1,000,000) Great British Pounds(GBP) which amounts to $1,500,000.00 (One Million,Five Hundred Thousand United States DOLLARS) in cash, drawn in your favour, as the soul beneficiary and covered with the highest level of Insurance policy called the IRREVOCABLE GUARANTEE OF PAYMENT BOND.
"Irrevocable guarantee of payment bond! That sounds extremely official."
Due to mix up of some names and winning number, we ask that you keep your winning information confidential until your claim has been processed and your money remitted to you, in your perspective country. Because this is part of our new security protocol to avoid double claiming and forgery of winners identity in this program by some unscrupulous persons.
"Yes, yes, that sounds very sensible. Can't be too careful!"
Your winning will be delivered to you personally upon visiting our lottery headquarters in London, however,you must first stop in PORT HARCOURT,NIGERIA, in order to complete vital paperwork to avoid tax in both the united states and England. Please reply to this email in CONFIDENCE for more details.
"Hmmm. Maybe it's time for me to make a trip."
Crankshaft, 10/21/15

At last, this is what this dull mayoral campaign needs to liven it up: huge hellpits forming in town, threatening to swallow up the citizenry! Which candidate can stop the complete implosion of Centerville's surface area, leaving the whole municipality just a gaping maw into the awful hell-dimension that lurks below the Earth's surface? Certainly not Ralph Meckler! Why, he fell into the first one, just minutes after it formed! VOTE MAYOR KANE: the only candidate with the experience to defeat the Mole-Demons.
Dennis the Menace, 10/21/15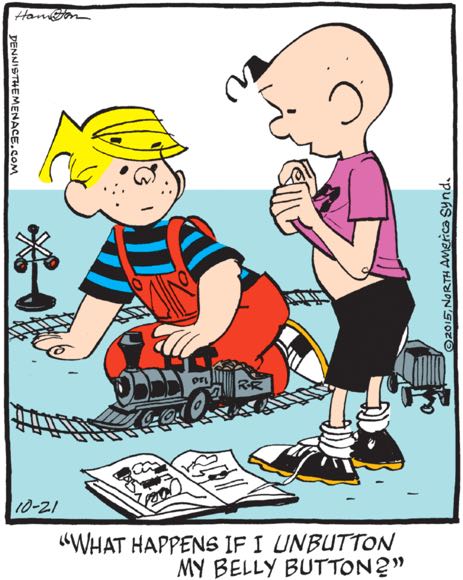 "What happens if my insides become my outsides, in a great rush of blood and viscera?" Step aside, Dennis: there's a new menace in town, and he's arrived with a flourish of nightmarish body horror.