Post Content
Rex Morgan, M.D., 4/17/16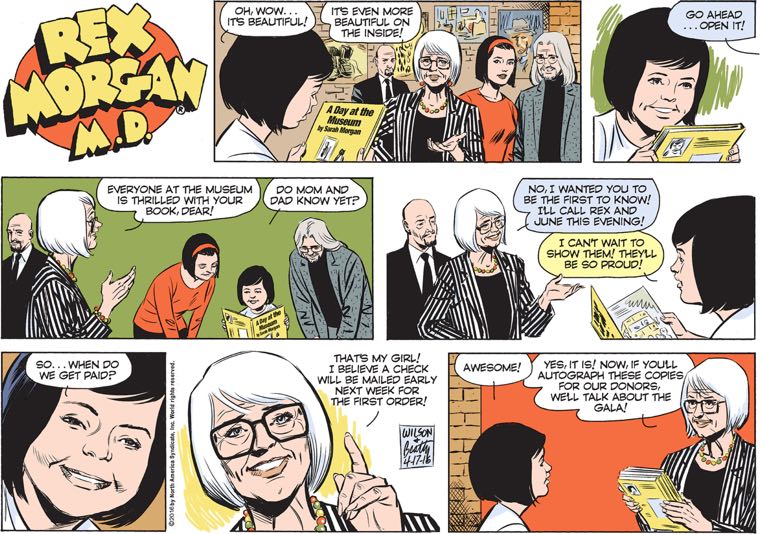 At long last, the day we've all been waiting for: Sarah Morgan's book is available in print! As near as I can tell this strip from May 2013 is the beginning of that saga, so the whole project from genesis to execution took … just short of three years? In the soap opera comics, which move at a notoriously glacial pace? And it took me, a real adult human who lives in the ordinary timestream three and a half years after my Kickstarter to get my book out? Ugggh. Anyway, come to my book tour April 26 in Washington, DC or April 28 in Baltimore or May 2 in Brooklyn or May 5 in Buffalo, so I can outsell this terrible sphere-headed child-golem, at least!
Archie, 4/17/16

I'm sorry, Mr. Lodge, but nobody wearing that red-and-yellow nightmare has the right to criticize anybody else's clothing choices. It's really too bad for him that having a servant entirely for the purpose of dressing the master of the house has apparently fallen out of favor amongst the ultra-rich.
Family Circus, 4/17/16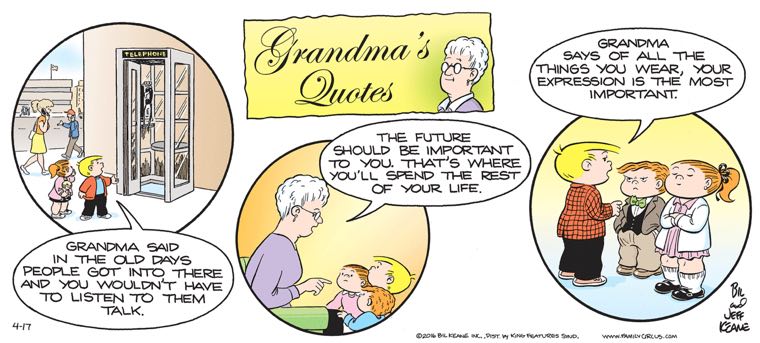 I absolutely love how furious Jeffy looks in the rightmost panel here. I know Billy's statement is supposed to be a response to his sour face, but it looks like it's the other way around and he's just so mad about this dumb aphorism. "Grandma isn't here, Billy. The best part about Grandma not being here is that we don't have to listen to this shit."
Pluggers, 4/17/16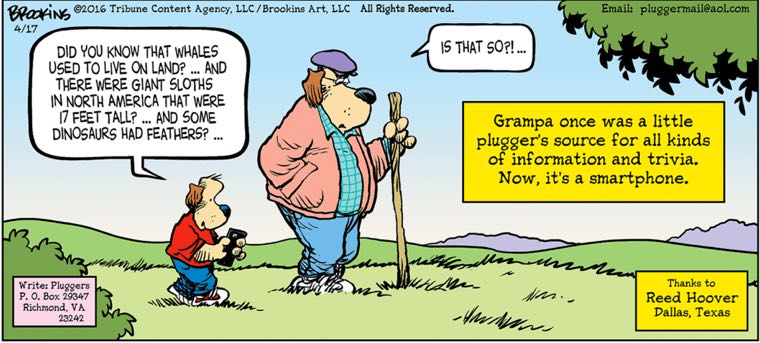 Pluggers remember when they used to be able to guide their grandchildren away from Darwin's Satanic lies, back before their damn daughter-in-law started pitching a fit because she and the public schools knew better than the Bible.
Funky Winkerbean, 4/17/16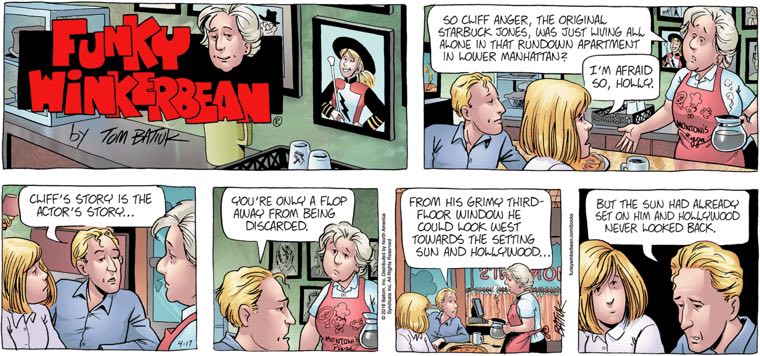 Remember, If Your Strip Ends With Even The Vaguest Play On Words, That's Technically A "Punchline," Even If It's Incredibly Depressing: The Funky Winkerbean Story