Post Content
Slylock Fox, 5/23/16

I'm not sure what's funnier about this scenario. Is it that the Count has the awe-inspiring capability to build incredibly lifelike androids but only uses them as decoys when he's on the lam? Is it that Deputy Duck lassoed this machine-man while it presumably stood there whirring and grinning like a moron? Is it how darn happy Deputy Duck looks to have finally achieved something, and everyone else looks very grave, aware that his sense of accomplishment will soon vanish? No, trick question: the actual funniest thing is that Deputy Duck isn't wearing pants.
Crankshaft, 5/23/16

Good news! Jeff didn't get a chance to tell his mother he forgives her, which, since she definitely didn't think she ever did anything wrong, is a scenario that definitely would have involved her mustering her last shred of strength to say something incredibly cutting and cruel that would have left him even more emotionally torn up than when he started! See, sometimes good things do happen in the Funkyverse.
Mary Worth, 5/23/16

"Incidents lead me to believe too many people are lacking in some way! Incidents, Mary! Incidents! Lacking! This is how I talk, all the time! I don't understand why I have problems making friends!"
Pluggers, 5/23/16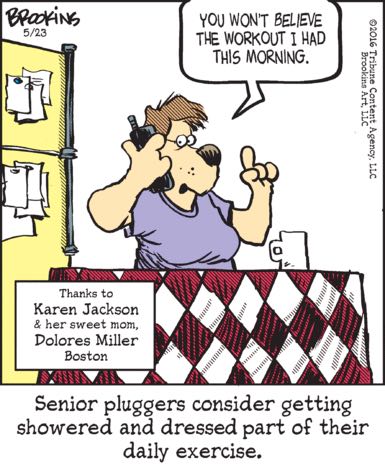 Pluggers are tired. So very, very tired. When will death finally come for pluggers? When will they finally be able to sleep, forever?