Post Content
Spider-Man, 6/10/16

Haha, has it really been a month since I updated you on Spidey's dumb adventures? Well, here's what happened: Xandu used the Wand of Watoomb to defeat Nightmare and bring his scary nightmare-dimension to New York's Washington Square Park, and then used the Wand of Watoomb to take over innocent New Yorkers' minds and have them beat up Spider-Man. But then Spider-Man started winning. How could this be? Could Spidey actually be using his super-powers to defeat an enemy??? No, don't be ridiculous: he was merely a puppet being used by Doctor Strange, a much more powerful and talented superhero. This has got to be his most relaxing victory to date! He didn't even have to do any of the work! The only way it could've been better if he had been able to watch TV during the process, somehow!
Gasoline Alley, 6/10/16
I don't know what's funnier here: that there was concern that this plot-advancing untruth might cast improper aspersions on Gertie's pie-baking skills, or that we're expected to believe that anybody edits Gasoline Alley.
Mary Worth, 6/10/16

I sincerely hope that this is the first Mary Worth comic that at least one person in the world has seen, and that that person assumes the strip is about an unusually cheerful woman who works in a prison library.
Pluggers, 6/10/16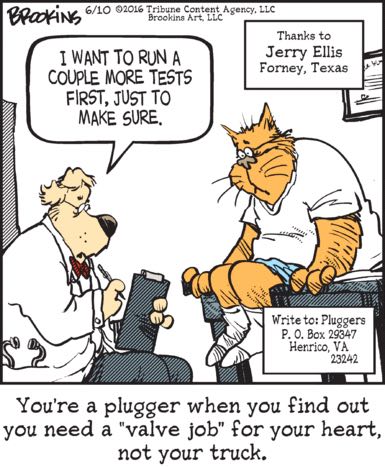 You're a plugger if you take decent care of your car but you're dying of heart disease.