Post Content
Beetle Bailey, 9/24/16

Gotta respect the decision to have the characters completely commit emotionally here. In a strip where people are generally pretty blasé about horrific violence, General Halftrack seems genuinely terrified that he's about to die.
Hi and Lois, 9/24/16

"They're gonna cut off his thumbs! They'll probably say something you like 'Did you think this was a fuckin' GAME' right before they do it, too."
Dennis the Menace, 9/24/16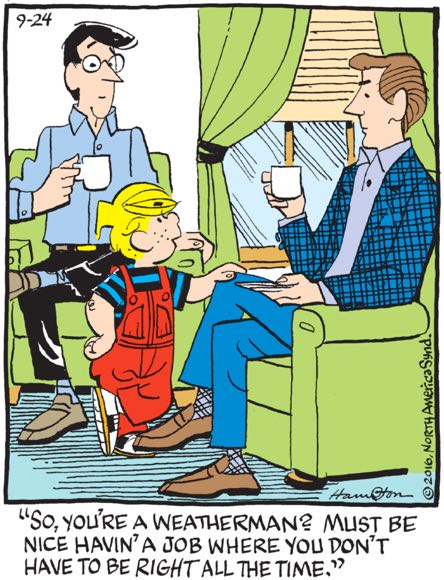 Trotting out tired jokes a weatherman has heard over and over again? Not particularly menacing. Casually invading his personal space and resting your hand on his knee while you do it? Extremely menacing.
Rex Morgan, M.D., 9/24/16

HEY, HEY WERE YOU WORRIED THAT THE REX MORGAN, M.D., DISCUSSION OF THE ETHICS OF PATIENT-NURSE FLIRTING MIGHT NOT GO ON FOR EIGHT FULL DAYS?
WELL
GOOD NEWS