Post Content
Spider-Man, 3/28/17

So MJ has to get Ronan, the Accuser, currently in suspended animation, to Albuquerque to use as a human Kree shield against the violent, nightmarish Shemp-bot. And she's getting there the old fashioned way: using the free market! No "government handout" needed for this entrepreneurial gal! Yes, it's completely believable that whatever cash she happens to have on hand is enough for her to buy a large commercial vehicle, which is presumably the driver's main business asset, as well as pay for several hours of labor from both the driver and four day laborers. The system works!
Mary Worth, 3/28/17

Ooooh, I'm guessing this eager couple are about to have their lives meddled in — for the better — over the course of this cruise! What do you suppose their problem is? Maybe they've never actually seen a body of water larger than Lake Michigan, so they'll immediately start panicing the moment they get on the open ocean! Or, since they seem to believe "Hoosiers" and "Cruisers" rhyme, maybe they aren't really from Indiana or even native speakers of English, and Mary's about to blow their sinister spy ring right open.
Dennis the Menace, 3/28/17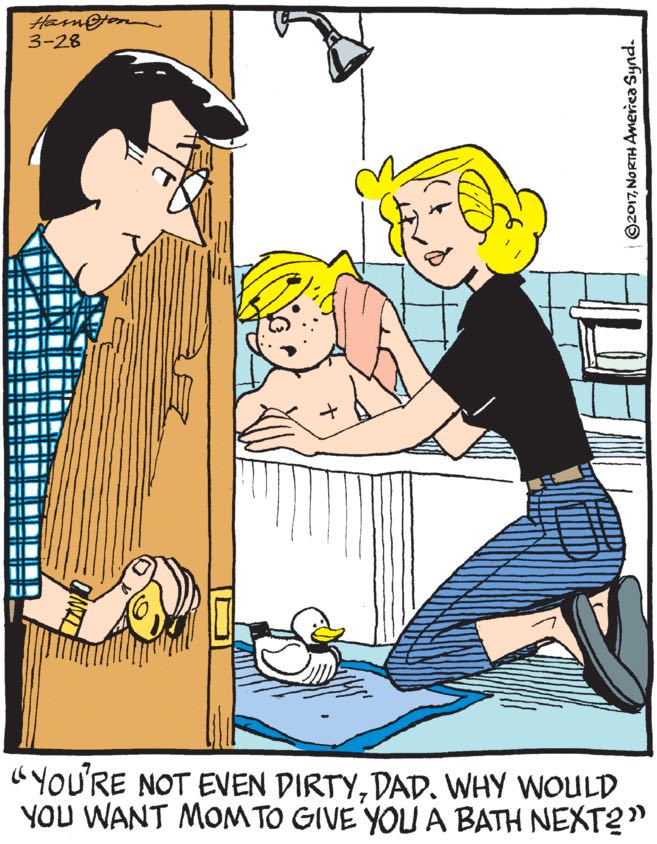 Call me a prude if you will, but I feel personally menaced by this open display of Mitchell-on-Mitchell sexuality. I DON'T WANT TO THINK ABOUT HENRY'S EROTIC BATHING FANTASIES, OR, WORSE, HIS EROTIC BATHING REALITES, OK? I DON'T. I DON'T.