Post Content
Pluggers, 3/2/17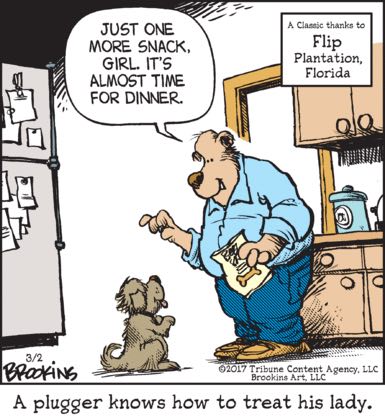 You know, Pluggers has blurred the line between beasts and beast-people before, and they've even hinted at the kind of sexual relations that mark a universe where there's a spectrum of sapience, but this — this is pretty explicit. Too far, Pluggers. Too far! The fact that the credit for this "joke" is given to a name that very well could be given to a dog is extremely not helping.
Gil Thorp, 3/2/17

Ugh, fine, Aaron isn't actually on drugs, it seems; his mom's on drugs, like far too many economically downwardly mobile Americans these days. I'm still not sure why he does well at basketball around payday? Shouldn't that be when his mom can afford her drugs? I kind of want the payday thing to be a total red herring just to prove that the Freezy Bomb Boys were entirely wrong about literally everything.
Mary Worth, 3/2/17

Hey, speaking of America's out-of-control opioid crisis, what's going on in Mary Worth? Well, once again, it turns out that Iris has been so caught up in her own frivolous hobbies (before it was pursuing higher education, and this time it was fucking a 25-year-old) that she's neglected her pill-addict son. Don't worry, though: Jesus, who has long been Tommy's hairstyle icon, is now also his not-giving-in-to-the-temptations-of-sweet-sweet-Vicodin icon.
Mark Trail, 3/2/17

Haha, Cherry sure seems anxious in panel two, doesn't she? "Wasn't someone out there doing a black-footed ferret and prairie dog survey? A bear isn't going to help that at all! A bear can really mess up that kind of thing! I don't remember who it was who was doing the survey exactly, but if they run into a bear, that survey is toast! This is terrible! I'm not going to be able to sleep at night, thinking about all the work what's-his-name is putting into that black-footed ferret and prairie dog survey, which just is going to be ruined by some dumb bear!" "How's Johnny doing? We haven't seen him in years!" says Doc, pointedly ignoring everything his daughter is saying.
Shoe, 3/2/17

"I tried that once. It made me constantly aware of the crushing aesthetic demands that our society places on women, and let me tell you: no thanks."