Post Content
Mark Trail, 1/4/18

Wow, everybody, Mark isn't just taking Rusty on a trip for once; he's taking him and Cherry on a trip to Mexico! They haven't mentioned fishing yet but snorkeling counts, right? I think it's cute that they're trying to spin a trip to Mexico as exposing Rusty to a "totally different culture," as if he's had any meaningful contact with American culture beyond the AM radio broadcasts that are occasionally permitted within the log walls of the compound.
The casual mention of Mark's "old archaeologist friend" is obviously setting up the main plot, so I think the questions we need to ask ourselves are: which cursèd artifact will Rusty be touching, how soon will he be touching it, and to which ancient Olmec god of blood will it be necessary to sacrifice him to prevent the destruction of the world?
Mary Worth, 1/4/18

As Wilbur spirals down into full-on anhedonia, I was trying to remember the last time I saw him experience happiness that isn't retroactively tainted by Fabiana's perfidy. I'm thinking it might be when he deliriously proclaimed to his editor that "I shouldn't be alive … but I am"? What I'm trying to say is, if Wilbur wants to feel joy again, he might want to rent himself out to a rich sadist with a private island for a "Most Dangerous Game" situation.
Funky Winkerbean, 1/4/18

Hey, were you wondering how Funky's AA meeting is going? Welp, he's basically given a long, rambling diatribe about how everything's going to shit that's both extremely intense and weirdly lacking in proper nouns while everyone else stares at him in horrified silence. It's going great, in other words.
Pluggers, 1/4/18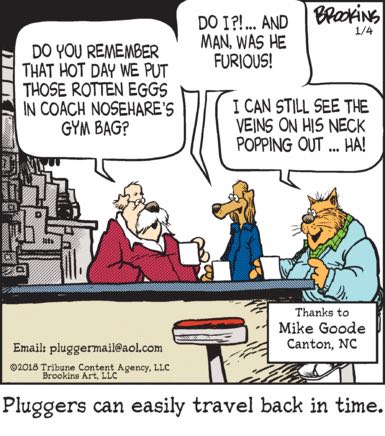 ONLY PLUGGERS CAN RECONSTRUCT INCIDENTS FROM THEIR MEMORY INTO A COHERENT NARRATIVE AND UNDERSTAND THE PASSAGE OF TIME
WE URBAN ELITISTS LIVE IN A JUMBLED FOG OF PAST AND PRESENT INCIDENTS, UNABLE TO REMINISCE OR LEARN OR PERCEIVE CAUSE AND EFFECT