Post Content
Curtis, 11/17/18

Curtis is a strip I have a great affection for, despite its corniness, and unlike certain strips I could mention its weird gags about social media feel at least a little based on some actual experience with it. Like, is snake ownership actually the new rage on social media? No, obviously not. But could you sort of see some interconnected subset of the people Curtis follows getting really into snakes, for some reason? Sure! Seems eminently believable to me. I bet Snake Twitter is extremely lit.
Hagar the Horrible, 11/17/18
Hey, remember in Mark Trail when there was a little girl who was bed-ridden with depression because her parents got divorced, and Mark cured her by giving her a puppy? Normally "hey why treat debilitating mental illness when you could just get a pet or go for a walk instead" bullshit makes me furious, but Hagar and Lucky Eddie are a solid millenium away from reliable talk therapy or psychopharmaceuticals, so I guess they might as well give this cute dog a shot.
The Lockhorns, 11/17/18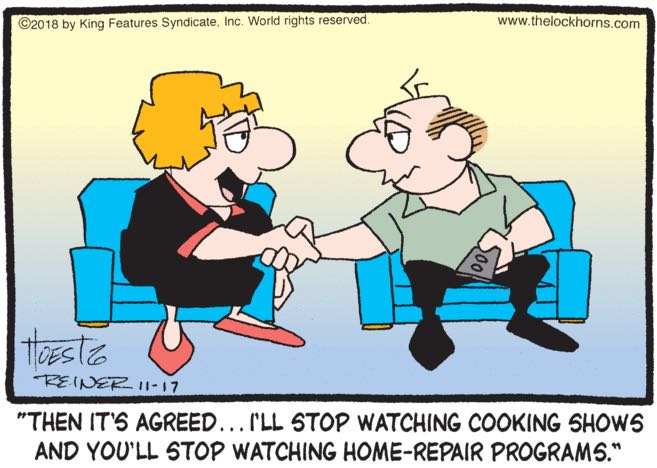 It's incredibly sad that the Lockhorns have come to a truce that involves each of them giving up something they enjoy. The only thing they can agree on is their own mutual immiseration.