Post Content
Blondie, 12/12/18

I believe that Dagwood is a true food fetishist, in the sense that he doesn't just enjoy the act of consuming food in and of itself, but has so centered it in his personality that he's developed various paraphilias around it. So yeah, he's gonna want some elaborate role play with his Christmastime pizza delivery, but here's the thing: sex workers generally charge more as their clients' tastes get more exotic, and this scenario is no different. You want someone to come down your chimney with pizza (not a euphemism, this is literally what Dagwood wants, this is what he's been thinking about all day, ever since he spotted the pizza delivery guy in his Santa suit last night and wrote down the number on his car), you've gotta pay come-down-your-chimney-with-pizza money.
Crankshaft, 12/12/18

Speaking of people who won't be coming down your chimney, the "joke" of the current Crankshaft arc is that Crankshaft was running late and didn't have time to change out of the costume from his mall Santa gig before arriving at his bowling night, which, fine, but … the beard? Surely he could just take off the beard? I was thinking maybe he had affixed it to his face with spirit gum but that seems like far more commitment than Crankshaft has ever put into anything that wasn't spiting his fellow man.
Mother Goose and Grimm, 12/12/18

Now, I'm not an artist or a scientist but I was kind of curious about what was going on from an anatomical perspective in that stall and this is what I came up with: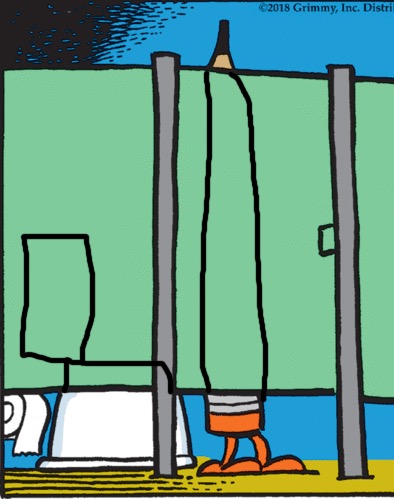 So you heard it here first, kids: pencils shit standing up!
Funky Winkerbean, 12/12/18

Ahhh, I love Holly's mom's expression of slowly dawning disappointment! That's the face of a woman who just minutes ago thought, incorrectly, that she was about to get laid.
Pluggers, 12/12/18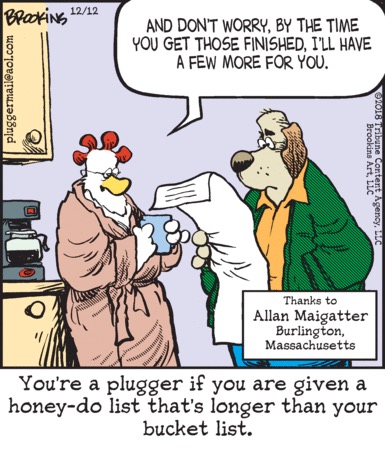 You're a plugger if there's absolutely no way you'll be able to complete your list of menial tasks before you drop dead.