Post Content
Barney Google and Snuffy Smith, 6/17/19

Oh hey, remember that Barney Google and Snuffy Smith crossover business from a couple weeks ago that I quickly lost interest in? Well, it was all a run-up to the strip's 100th anniversary. Thanks for 100 bodacious years, the strip's titular characters say, though given how the history of the strip has played out, really Snuffy should be saying "Thanks for 85 bodacious years," and Barney should reply "Thanks for 35 bodacious years, and then decades of extremely rare bodacious cameos, and then more frequent bodacious appearances starting in 2012 for whatever reason." I was going to make fun the today's boast (threat?) that this strip will last another century or maybe even more, but it's honestly pretty wild it's lasted this long, so who's to say what the future holds? Anyway, let's see how the other strips in the King Features stable are kissing Barney Google and Snuffy Smith's ass today!
Mark Trail, 6/17/19

Kudos to Mark Trail for dispensing with its contractual obligation with a bit of confusing dialogue rather than trying to integrate Snuffy into the wold of the strip, possibly as a grotesque, gnomish hermit living deep in the Sonoran Desert. Instead we're just left with Mark looking at Doc thinking "Is this … a bit? Is he doing a bit? Couldn't he just call from his cell phone? We all have cell phones, right?"
Shoe, 6/17/19

I'm also fond of today's Shoe, in which the sapient bird-characters threaten to kill and eat (hopefully in that order) the beloved sapient (?) horse-character Spark Plug. Then they'll eat Barney and Snuffy too! How dare these humans come to the treetop realm of the bird-men! They must be punished!
Six Chix, 6/17/19

Six Chix gives a shoutout to Barney's … famous … self-driving car? Maybe this is a reference to Waymo, the autonomous vehicle company that spun off of Google, or maybe it's just acknowledgement that Barney will need a new form of transportation now that the birds have eaten Spark Plug.
Family Circus, 6/17/19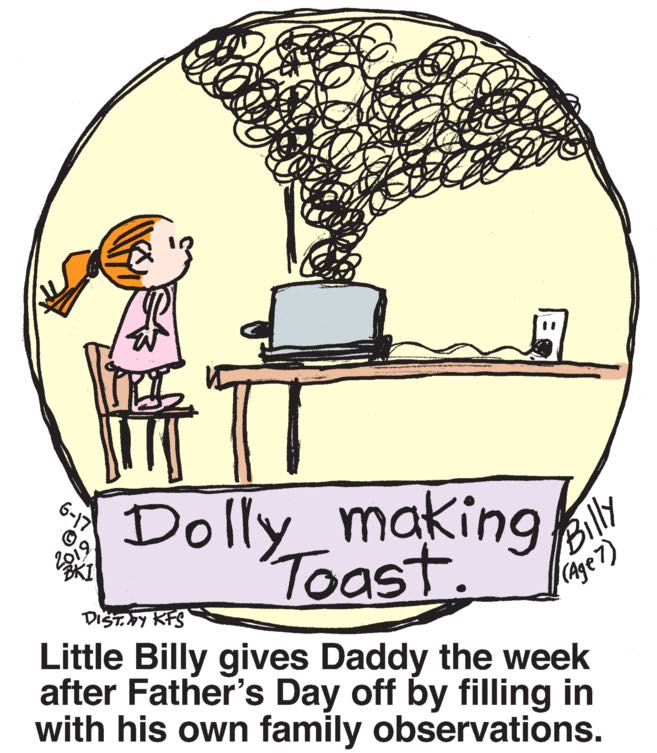 Meanwhile, that other venerable institution of the funny pages, the Family Circus, absolutely cannot be bothered to say anything nice about the birthday boys. Oh, your weird urban-sharpie-turned-hillbilly-minstrel-show strip is a hundred years old? Who cares. It's Father's Day week, and that means Jeffy Keane is going do a strip where he pretends to be his brother insulting his sister while giving their dad a day off. Fuck Dolly and her shitty toaster-operation skills and fuck Barney Google and Snuffy Smith: that's the official Family Circus position.