Post Content
Mark Trail, 1/15/20
So, uh, not only are we getting the rambling yeti story I asked for but it's actually extremely violent and also … in a completely different art style, for some reason? I'm not sure if Mark would've been so eager to go on this expedition if he had known that yeti were very aggressive and also impervious to guns! Anyway, I guess the reason Dr. Camel doesn't want to profit from the yeti is because he wants to murder it, in revenge for what it did to his family.
Funky Winkerbean, 1/15/20

You know, the thing about Les is that he's actually kind of cheery a lot of the time — in a smug, insufferable way, admittedly, but still, he usually has a smirk for everybody. I'm genuinely kind of baffled why he's just a total dick about literally everything about this movie adaptation of Lisa's Story, which, to emphasize, is only happening because he agreed to it, despite the fact that he already sabotaged an earlier version of it. What's his game here, exactly? Why has he come all the way to Hollywood to piss and mope? And since he's not writing the script anymore, why did Mason fly him all the way out to Hollywood for him to piss and mope in person? Do they not know about Skype? Did Mason feel the need to see Les slouching and shitting all over his dreams in the flesh?
Anyway, once you've read this comic and learned that fighting against daunting odds — whether it's to beat cancer or deliver a truly authentic film about your loved ones — is basically pointless, hopefully you'll feel inspired to donate to Lisa's Legacy Fund!!!!!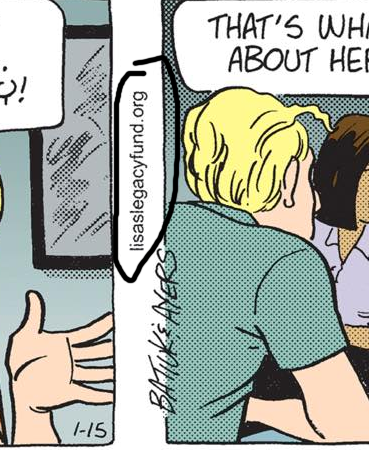 Dick Tracy, 1/15/20

Awful lot of bullets being exchanged in this "cold war," huh? I'm beginning to think that Mr. Roboto may not know what a cold war actually is.