Post Content
Blondie, 3/24/20

When the creators of a long-running legacy comic learn about the existence of some cultural artifact or practice popular among people under 45, and feel obliged to wedge it into their work but are unable to hide the fact that it makes them feel like a weird alien who can no longer recognize their own society — that's some of my favorite shit, man. I live for it. Anyway, what this strip really should make us realize is that, while Dagwood is usually depicted as playing a lot of Facebook games, a beloved old-person activity, in real life he would absolutely have an Instagram that he updates constantly with pictures of food, right?
Mark Trail, 3/24/20

Oh, ha ha, so, it turns out the cruel blond tween is actually the (presumably biological?) son of the Crowleys! It's going to be a real treat for Kevin to move from a tenuous position as an orphan to a tenuous position as an adopted child with a new brother who fiercely resents him while his new parents smile obliviously.
Mary Worth, 3/24/20

Ha ha, damn, just one stupid Star Wars parody film and Dawn is head over heels! Hugo had to paint a whole goddamn house!
Dennis the Menace, 3/24/20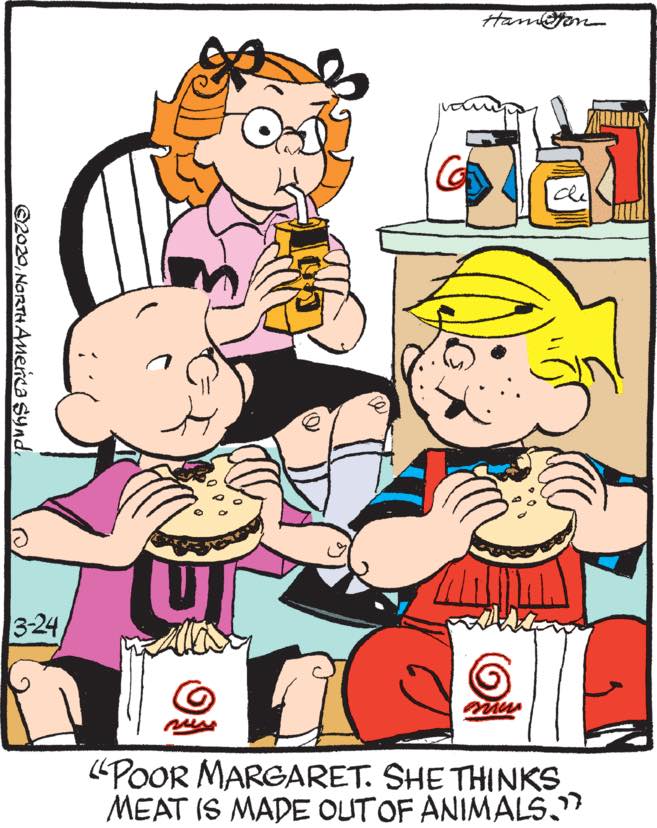 I guess this is supposed to be another panel in the "ha ha, Dennis is extremely stupid" category, but what actually comes across is that what we think of as "meat" has made out of something other than animals for years and somehow Joey and Dennis are in on the conspiracy, that that's frankly terrifying.