Post Content
Mark Trail, 3/9/20

Oh, wow, it seems these troubled children are turning on each other! They overheard Kevin admitting he didn't have a dad and are immediately unleashing the most vicious attack a teen thug can think of: "Hey, look, fellas! A homeless kid!" Fortunately Geoff is there to set everyone straight with some tough talk, or maybe he's just going to "level the playing field" by revealing all the socially debilitating secrets that ended with these delinquents on this hike instead of doing something fun and cool literally anywhere else. Anyway, how do you feel about the fact that you can apparently see down Geoff's throat in the final panel? Feel kind of uncomfortable? I sure do!
Mary Worth, 3/9/20

It's true, change is inevitable, as it's been said! But in this case, maybe it's … not? Like maybe Mary could ask for her preferred volunteer shift instead of just meekly acquiescing to the change? What're they gonna do if she insists, fire her?
Between Friends, 3/9/20

Oh no! The COVID-19 virus has finally reached the funny pages! Can Between Friends be isolated before the rest of our beloved characters are infected? Fortunately the strip is set in Canada, so only the zombie For Better Or For Worse crew is in immediate danger.
Family Circus, 3/9/20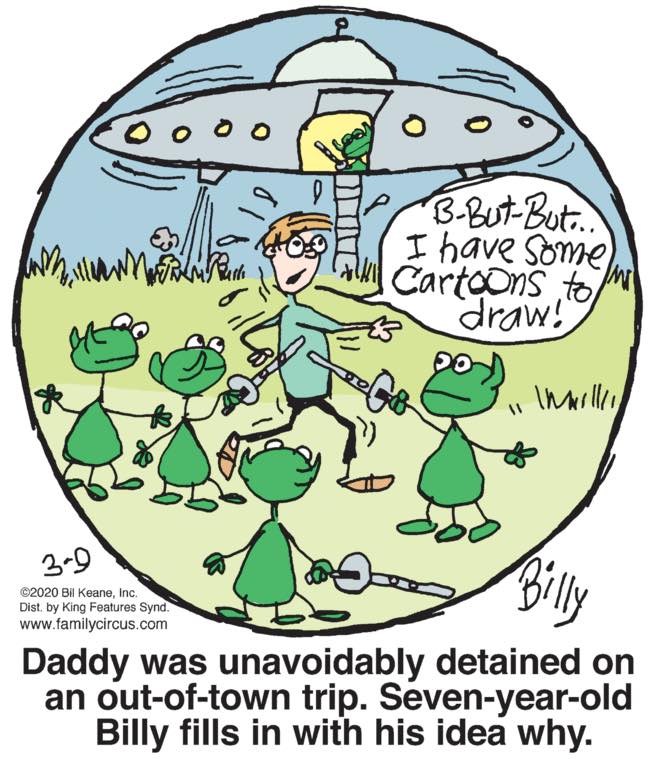 Daddy was "unavoidably detained on an out-of-town trip," and based on the whispered conversations of adults on the subject Billy has come up with some wild ideas of what's going on exactly, involving aliens and, I assume, rectal probes.
Pluggers, 3/9/20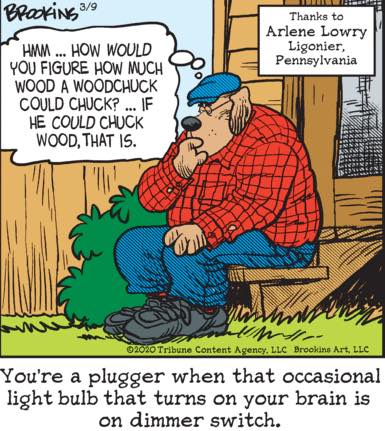 PLUGGERS ARE SUNDOWNING
THEY SAID IT
THE SYNDICATED NEWSPAPER PANEL PLUGGERS SAID THIS ABOUT PLUGGERS, NOT ME, I'M JUST REPORTING IT