Post Content
Curtis, 9/5/20

Classic misdirection — the weed is under the mattress. And he probably smokes the banana peels, too.
Dennis the Menace, 9/5/20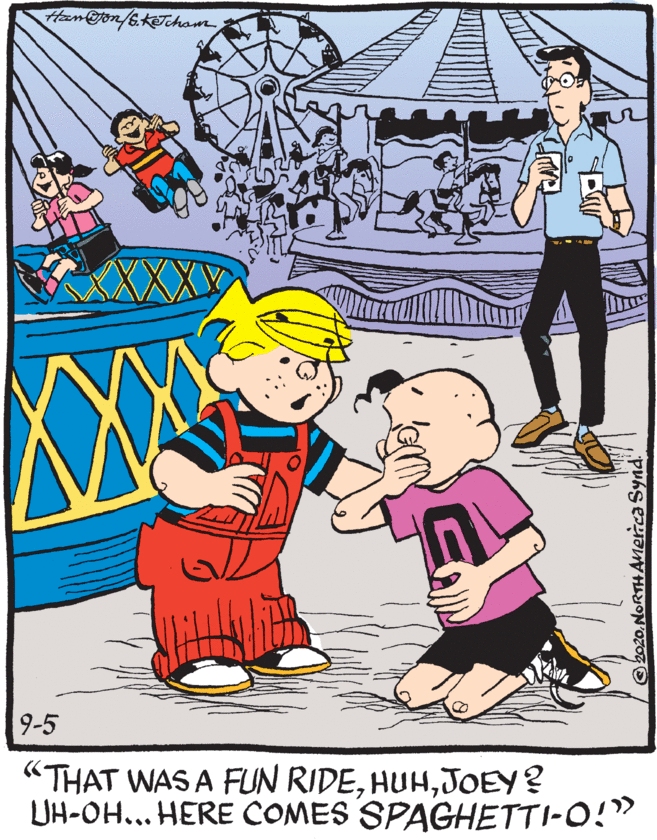 Using his media platform to trash a hallowed American brand: pretty menacing! You can almost hear him growl, "You're next, Sara Lee."
9 Chickweed Lane, 9/5/20

In the sex-based economy of 9 Chickweed Lane, the unit of currency is the Boink. But after 12 years' relentless overcopulation of the money supply, that currency has become utterly debased.
Funky Winkerbean, 9/5/20

And by, "the planet," I mean, "whatever is in my field of vision right now." [To self] "I wonder where people go when I turn my head."
Judge Parker, 9/5/20

Still more useless word-gunk. If this Producer gig doesn't work out, Ellen can get a job in Corporate HR anywhere in the World.
Phantom, 9/5/20
I am totally asking Aunt Lumpy's stylist to give her some of that awesome sea-hair!
---
— Uncle Lumpy