Post Content
Family Circus, 10/27/20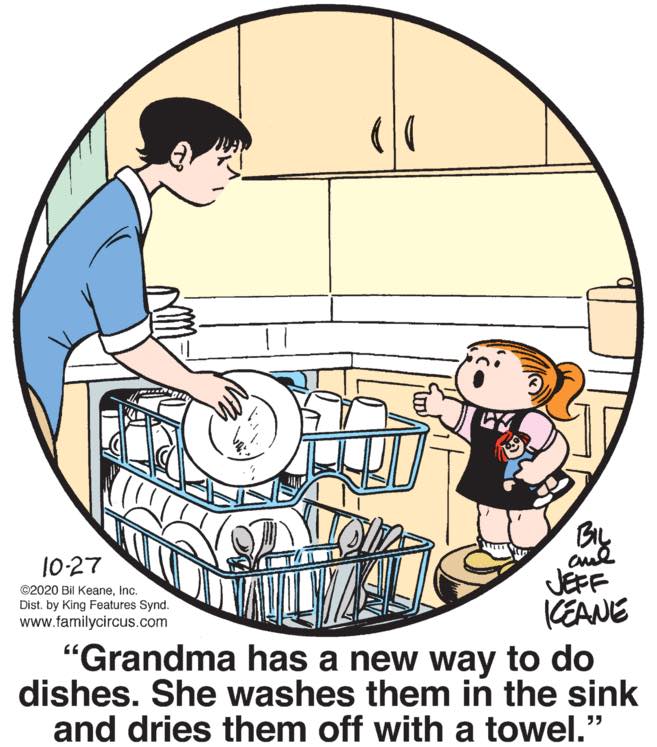 I am extremely tickled that Dolly is standing on a stool in order to deliver this joke. I assume it's a practical cartooning matter — if she were on the floor, she'd be cropped out by the circular border of the panel — but I'd like to imagine that she laboriously dragged the stool in in from the other room and climbed up on it so she could really get in her mother's face with her latest nonsense, with Ma Keane refusing to make eye contact with her or acknowledge her in any way all the while.
Rex Morgan, M.D., 10/27/20

So it turns out the bad thing Sarah did was … that she gave her self a haircut, and not even in a comical or interesting way, and June was able to fix it without too much trouble, and even if she couldn't, Sarah is like eight years old and does everything by Zoom right now, so who cares if her hair looks a little funny, you know? But that isn't going to stop us from debriefing about it for days, and it won't stop Rex — who, remember, is working in a COVID ward and the current strips are taking place in the initial wave of the pandemic so presumably he's watching multiple people die daily despite his best medical efforts — from treating this as the biggest disappointment he's encountered in his life to date. Rex says that he would've never thought to cut his own hair as a child, and it definitely tracks that he was boring as shit from the minute he was born.
Mark Trail, 10/27/20

Oh, huh, I see that Happy Trail Farms really is where various Mark clones are spawned using forbidden science, exactly as I predicted. Maybe we need to have a Crisis on Infinite Trails, with DoddTrail, ElrodTrail, and AllenTrail vanquished in combat, before RiveraTrail can thrive, to the extent that freelance writing in the clickbait era can be called "thriving."
Barney Google and Snuffy Smith, 10/27/20

Ha ha, it's funny because Hootin' Holler is so impoverished and isolated that it cannot participate in the modern economy, which is built around the mass manufacturing of complex devices out of standardized and interchangeable components!