Post Content
Gil Thorp, 1/21/21
We're now in the midst of what I call the "fun and games" section of a Gil Thorp storyline, where everyone's zany character premises are given free reign to run wild before some inevitable conflict results. In the current case, we have newly minted PA announcer Vic Doucette getting drunk with power and arranging hot dog giveaways on his own initiative, and car fanatic Doug Guthrie continuing to be a fanatic about cars in any given context. Presumably these two are in for a fall soon enough, when Coach Thorp tells Vic that it's all well and good for a nerd to offer supporting services to jocks but he needs to keep in mind that jocks are the reason we're all here so let's keep the focus on them and Doug gets caught up in a car-fucking scandal, respectively.
Crankshaft, 1/21/21

Oh, I didn't talk about it here, but Crankshaft's beloved Beans End catalog didn't go out of business after all, but instead got absorbed by Buddyblog, the Funkyverse's catch-all Internet company whose primary business seems to be demonstrating that the Internet in particular and young people in general are bad, actually. Anyway, remember how it used to be a whole big thing in this strip that Crankshaft overcame illiteracy as an older adult? Well, cut him some slack, Lillian, maybe he's never going to read cozy mysteries for fun, just let him enjoy his damn gardening catalog in peace without judgement.
Family Circus, 1/21/21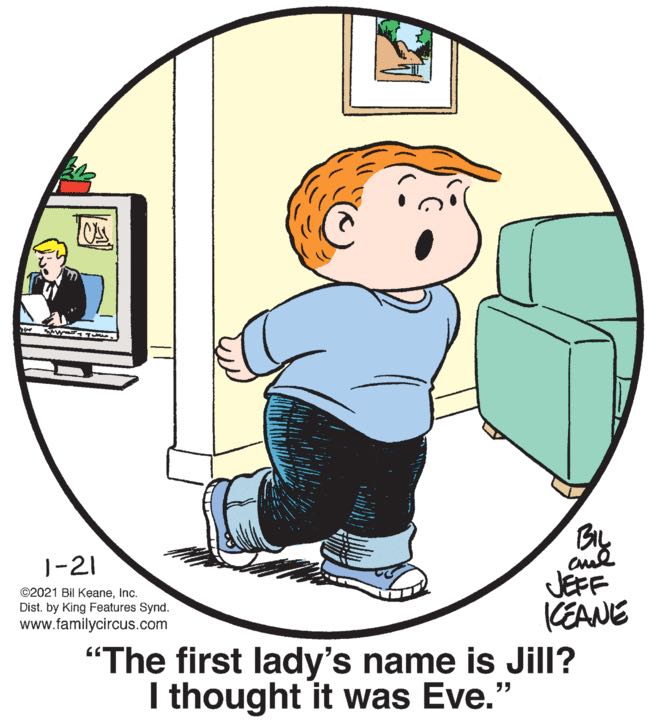 You couldn't pay enough to go look it up, but I'm willing to guess that this joke, slightly modified, has run in newspapers on quite a few January 21sts over the years, and while normally I would roll my eyes at yet another moronic Jeffyism, I have to say that it's nice to see that, after a few violent hiccups, the hallowed ceremonies that surround the presidential transfer of power are proceeding as scheduled.
Mary Worth, 1/21/21

"It's almost like she … doesn't want to talk to me? But that can't be right."