Post Content
Funky Winkerbean, 1/26/21

"Man," thought Harry Dinkle, "I remember back in the day, these conferences used to be fun! People had a sense of humor, liked to joke around. Now they're a bunch of stick-in-the-muds who'll bite your head off for no reason. Also, totally unrelated, it used to be a lot easier to find someone who had cocaine."
Mother Goose and Grimm, 1/26/21

Strips like Mother Goose and Grimm really veer back and forth between "These characters are basically humans who happen to look like animals" and "These characters are animals with animal-like traits," and I want to make clear that I fully recognize that this is in fact part of the fun of the strip, not a "goof" or a "mistake" or whatever. Still, I think the veering back and forth can sometimes veer into unintentionally awkward territory, like today, when the joke is supposed to be "Ha ha, Attila is a character in this strip who talks and thinks like a person but is also a cat," but the execution, especially the whisper and look of panic on the sales lady's face, really gives off a strong "please help me escape from this abusive relationship" vibe.
Dennis the Menace, 1/26/21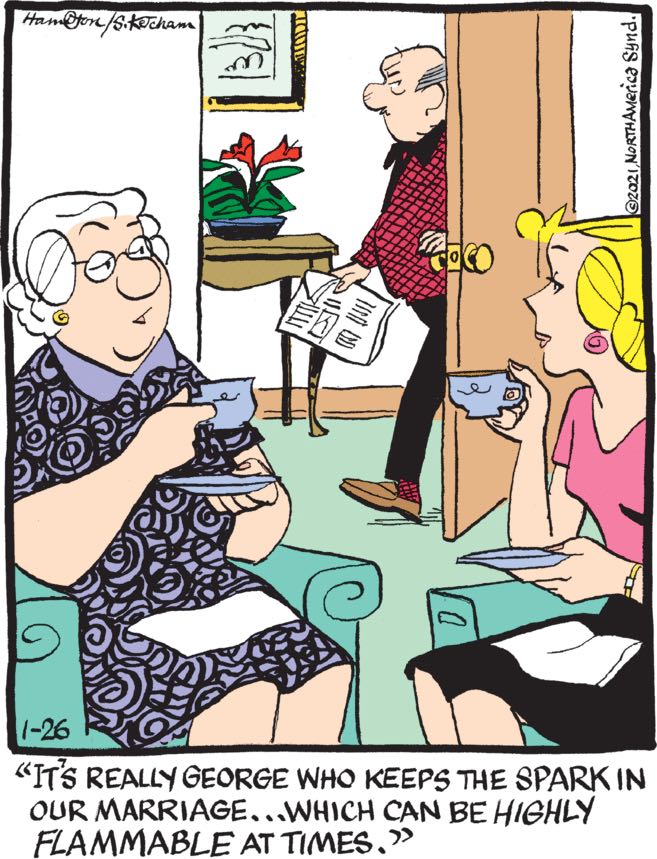 Speaking of which, I don't usually look at a Dennis the Menace punchline and say "Jeez, I hope this is a sex thing," but for the sake of Mr. and Mrs. Wilson, I sincerely hope this is a sex thing.
Pluggers, 1/26/21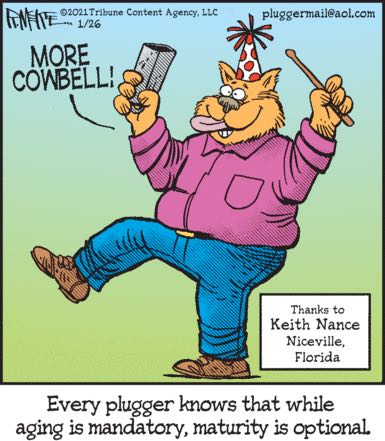 Fun fact for those of us rapidly aging into the plugger demographic: the "More Cowbell" sketch first aired in 2000! Can you imagine! Anyway, a better caption here would be "It's been about 20 years since pluggers have been able to stay awake late enough to watch SNL."