Post Content
Funky Winkerbean, 11/25/21

Happy Thanksgiving, everybody! If you're looking for something to be thankful for, maybe you should give thanks that you don't have Funky Winkerbean's entire family showing up at your front door and explaining to you who they all are, for some reason, as if it were very vital for readers at home to get a full accounting. I have to wonder if the Funky team has forgotten that Mort, the sex creep in Harry's band full of old people, is supposed to be the same person as Morton, Funky's dad? The band member in this month's "Mort from Harry's band is horny for Lillian" sequence sure looks like Funky's dad in the "Funky's dad is horny for Holly's mom" sequence from December 2018: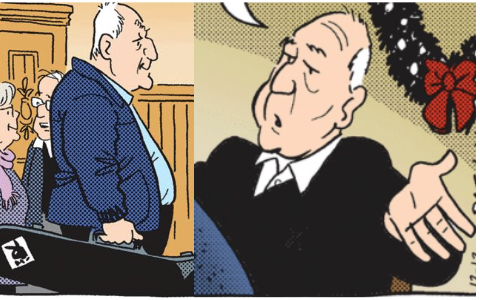 And maybe it's just the angle, but Funky's dad's head looks pretty differently shaped today? Plus why would Funky feel like he has to introduce his dad to Harry, since his dad is in Harry's band? I guess it's possible that, having put his dad in a home specifically so he could think about the old man as little as possible, Funky has not bothered to keep up at all with his dad's hobbies or activities.
Gasoline Alley, 11/25/18

Gasoline Alley also went in for a crowd scene, but in a way that is frankly a lot less tasking for me. Do I recognize these people as mostly Gasoline Alley characters? Yes. Could I name them? Some, but definitely not all. Does the strip insist on telling me what they're all named, because it's a good bet that I've forgotten and it wants me to double down on remembering them? No, it doesn't, and I appreciate that.
The Lockhorns, 11/25/18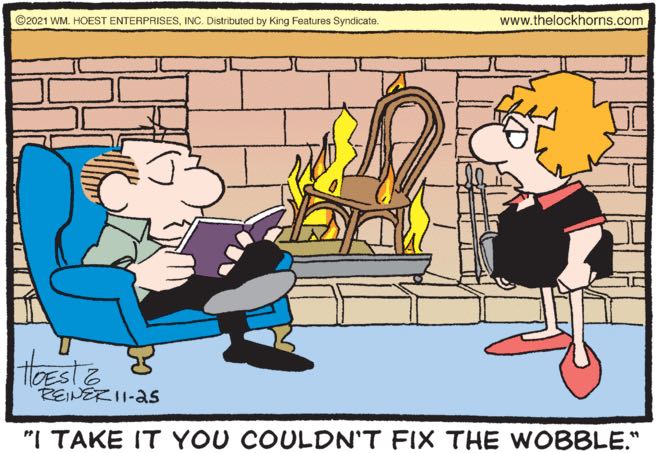 Speaking of things I'm thankful for, I remain thankful for the acidic purity of The Lockhorns. A lesser strip would depict a character burning furniture for heat, whereas this one depicts a character burning furniture out of spite.