Post Content
Hagar the Horrible and Hi and Lois, 3/17/22


Most people would say that the Irish Potato Famine is the worst tragedy that has befallen the Emerald Isle; an extremely not-fun fact is that the population of the island of Ireland is still 20% short of where it was in 1848. Mostly forgotten, but no doubt similarly traumatic, were the waves of Viking attacks that battered Ireland for much of the 9th and 10th century, leading to widespread death, destruction of cultural heritage, and even the establishment of short-lived Norse kingdoms that disrupted Irish political life. And sure, nobody ever accused Walker-Browne Amalgamated Humor Industries LLC of being "woke," but it's truly offensive on St. Patrick's Day for Hagar the Horrible to do a joke about some Vikings making an object of fun out of a furious and disheveled looking Gael, whose tavern they have presumably forcibly commandeered. More subtle anti-Hibernian sentiment can be found in Hi and Lois, where Hi's drunken neighbor seems to be claiming an Irish identity, despite the fact that his name, which literally means "Stone of Thor," is pure Norse. For shame, sir! For shame!
Curtis, 3/17/22

There was a great essay I read recently about the omnipresence of the "trauma plot" in modern storytelling, in which there's basically a Big Reveal about a character's Painful Past that Explains Everything about why they're Like This. The essay specifically takes on the new movie version of Death On The Nile, in which it's revealed (and, uh, spoilers I guess) that Poirot has (a) turned to detective work and (b) grown a silly mustache because of his suffering in the trenches during World War I, whereas Christie's original detective watches and learns about people and what they do because that's the sort of thing he enjoys, which is one element of what we used to call "having a personality" but doesn't create a dramatic back story per se. This is a long way of me saying that one of the things I've always loved about Curtis is its cheerful sitcom sameness. Curtis perceives his dad as cheap because the family is lower-middle-class and Curtis's ideas for how much money he as an 11-year-old should be given are unrealistic! I don't want to know about how Greg's beloved grandmother used to smoke and now he can't quit because the smell reminds him of the times they stayed at her house after his dad got evicted again! I swear, if we learn a single thing about Derrick and "Onion"'s sad home life I'm going to be furious.
Family Circus, 3/17/22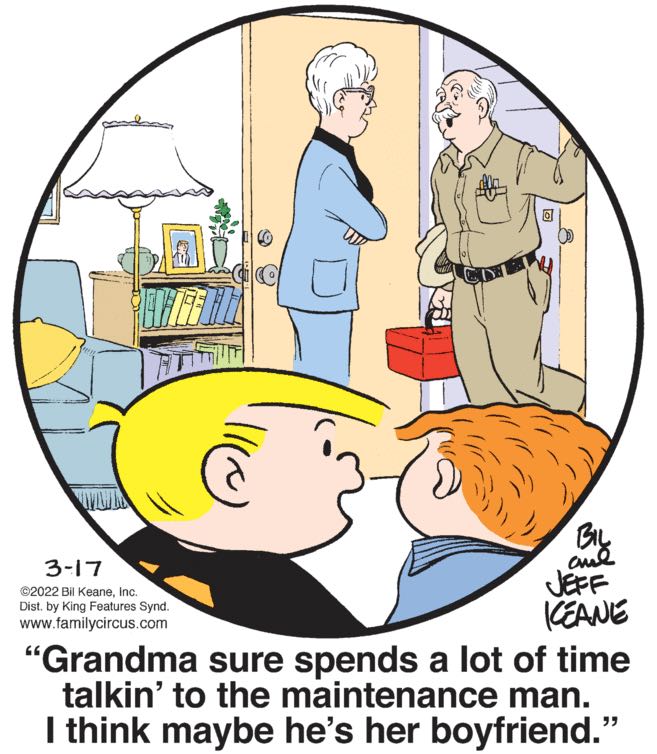 One of the conceits of the Family Circus is that Big Daddy Keane is simultaneously the patriarch of the family within the strip and also the artist and writer of the strip itself, which is why the strip occasionally gives him "time off" and "Billy (age 7)" fills in. I guess the fact that half the kids (where are the other two?) have been dumped at his mother's means that he's on vacation, which tracks with the complete lack of jokes this week. Like, the last couple days were just about the kids being really annoying to their grandmother's downstairs neighbors, because they don't understand the concept of apartment buildings? Anyway, I don't think there's a joke today either, but Grandma and the maintenance man are definitely fuckin', that seems pretty obvious and the kids are right to say it.
Dick Tracy, 3/17/22

In the first draft of my commentary on yesterday's Dick Tracy, I speculated that the villain's name would be "Tastebud," which I decided was too on the nose even for Dick Tracy and changed to "Tayste Budd" before I posted it. I apologize for failing to keep up with just how extremely on the nose Dick Tracy actually is.