Post Content
Family Circus, 1/17/23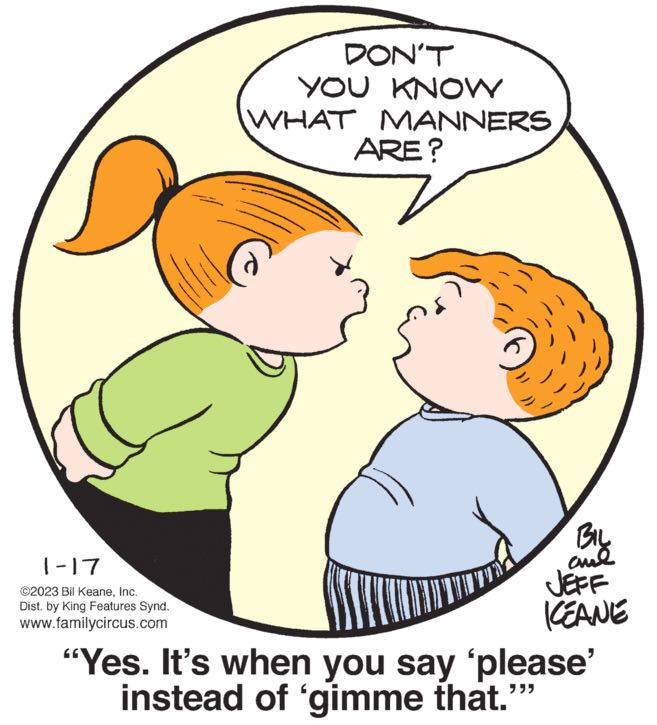 I'm really loving the body language in today's panel. Jeffy clearly didn't just mouth off at random; rather, he made a deliberate choice to provoke his sister, and was emotionally prepared for the consequences. That's why, even though his body is bending backwards from the sheer physical force of Dolly's disapproval, you can tell form his face that he's remaining calm and collected during the onslaught.
Mary Worth, 1/17/23

One of my favorite Mary Worth running bits is Dr. Jeff proposing to Mary and getting rejected. It's been quite a while since the last iteration of it, though, and it's clear that Jeff has been biding his time for the perfect moment, the moment when he gets Mary to admit that wedding ceremonies are great and marriage itself is the end-all be-all of personal happiness. You're almost there, Jeff! You've trapped her in her own words!
Crankshaft, 1/17/23

Ooh, foreshadowing, everybody! That's the prototype of the robot model that's going to take over Lillian's bookstore someday, in the wake of "the Burnings," an impending apocalyptic event that I assume involves the corpses of bookstore owners burned in great pyres by the robots that replace them.