Post Content
Rex Morgan, M.D., 5/21/23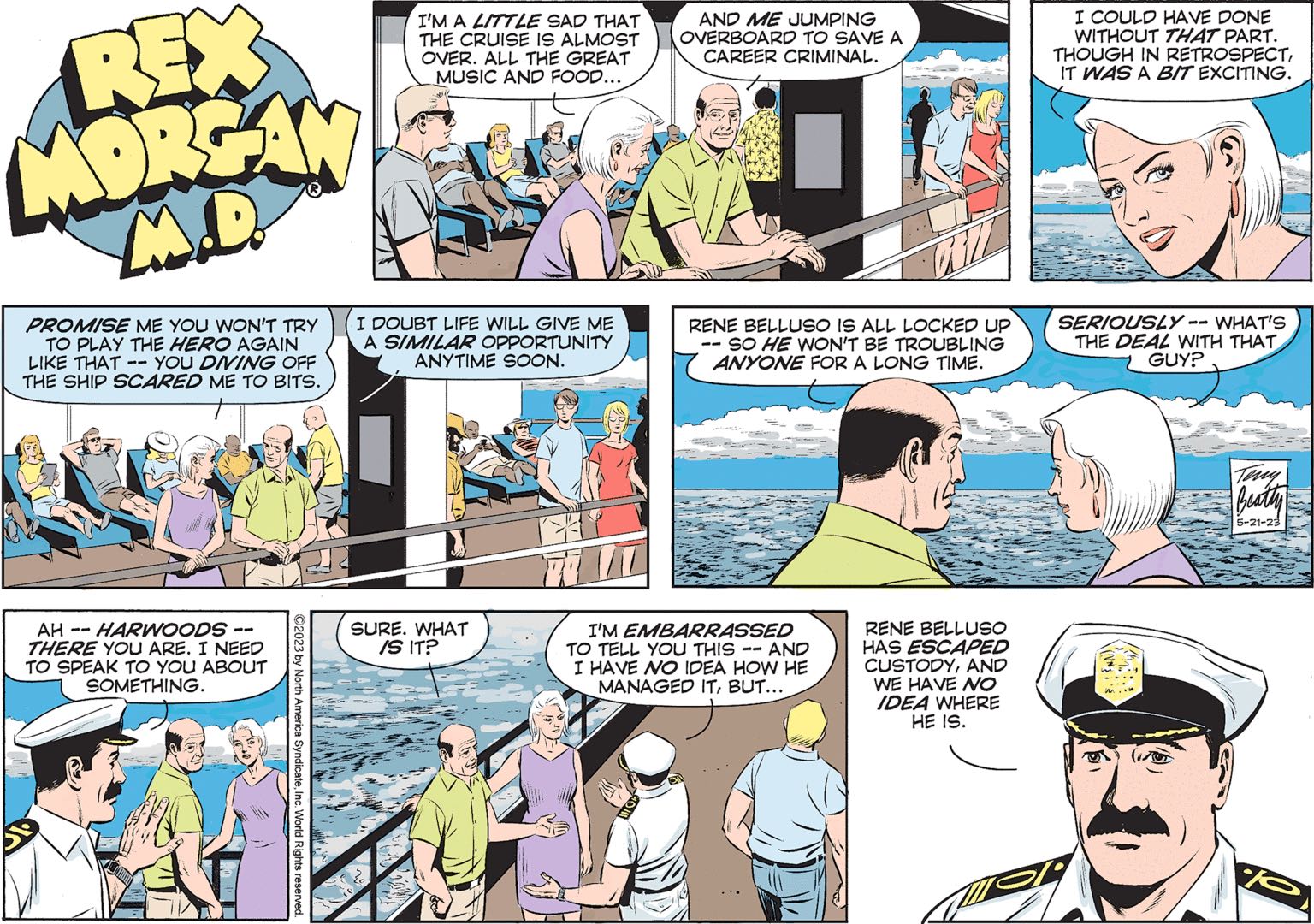 We all know that newspaper comics in general and newspaper soap opera comics in particular are being kept alive by a readership that skews old enough that it is imperative that everyone involved in producing said soap opera comics do everything they can to keep said readership alive, for their own sakes. The tactic Rex Morgan, M.D., has taken to meet this goal is to make everything as low stakes as possible, because even the smallest degree of surprise could cause unpleasant cardiac complications, which is why everyone is treating the fact that an attempted murderer has managed to escape custody and is now at large like a funny little "Oopsie! Ha ha, that's our Rene!" This cruise ship is still at sea, which means that the killer and his intended victim are stuck together in a limited space, a premise that has powered any number of successful suspense films — but don't worry, there's no suspense here! It's Rex Morgan, M.D. Everything is fine.
Beetle Bailey and Dennis the Menace, 5/21/23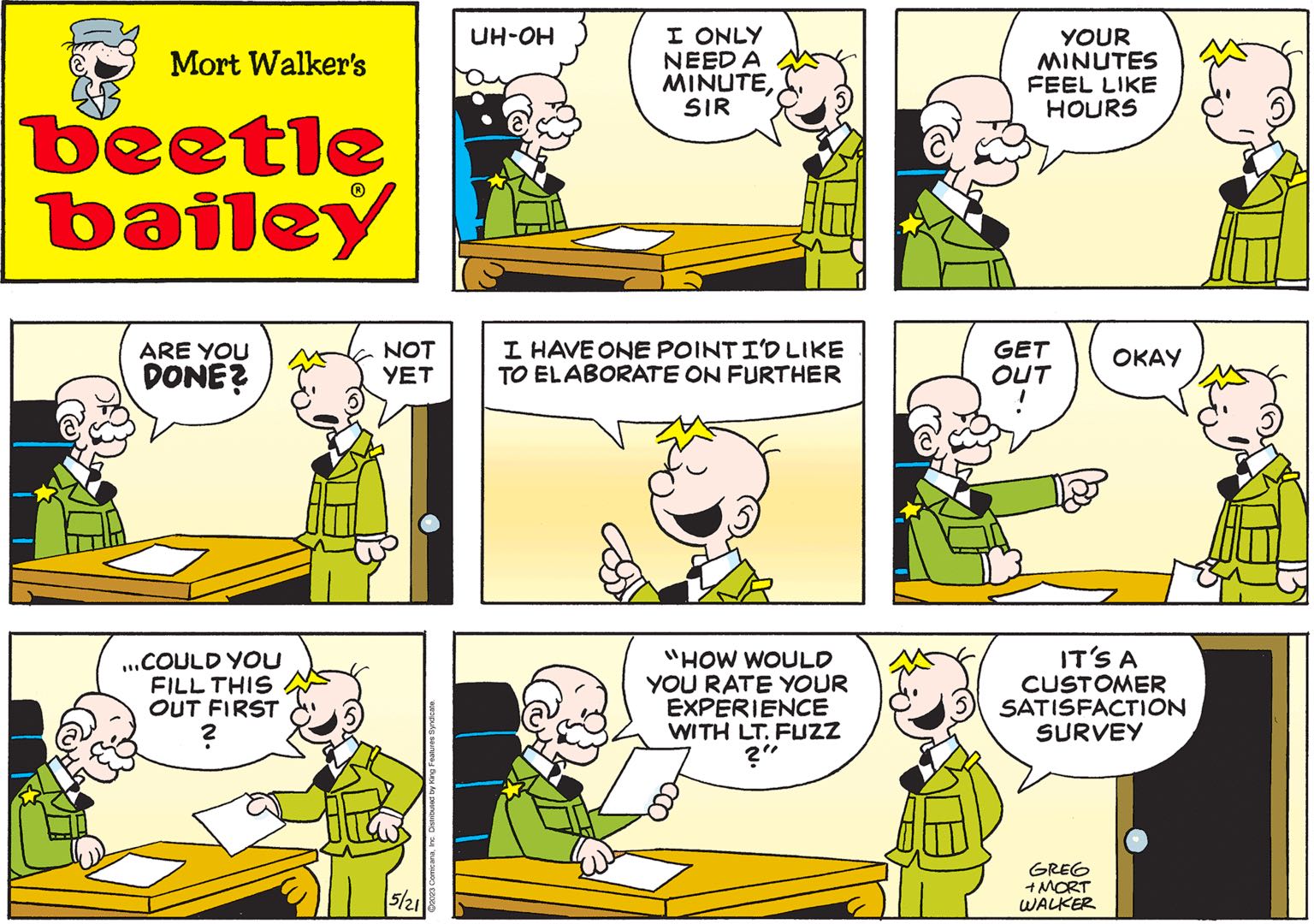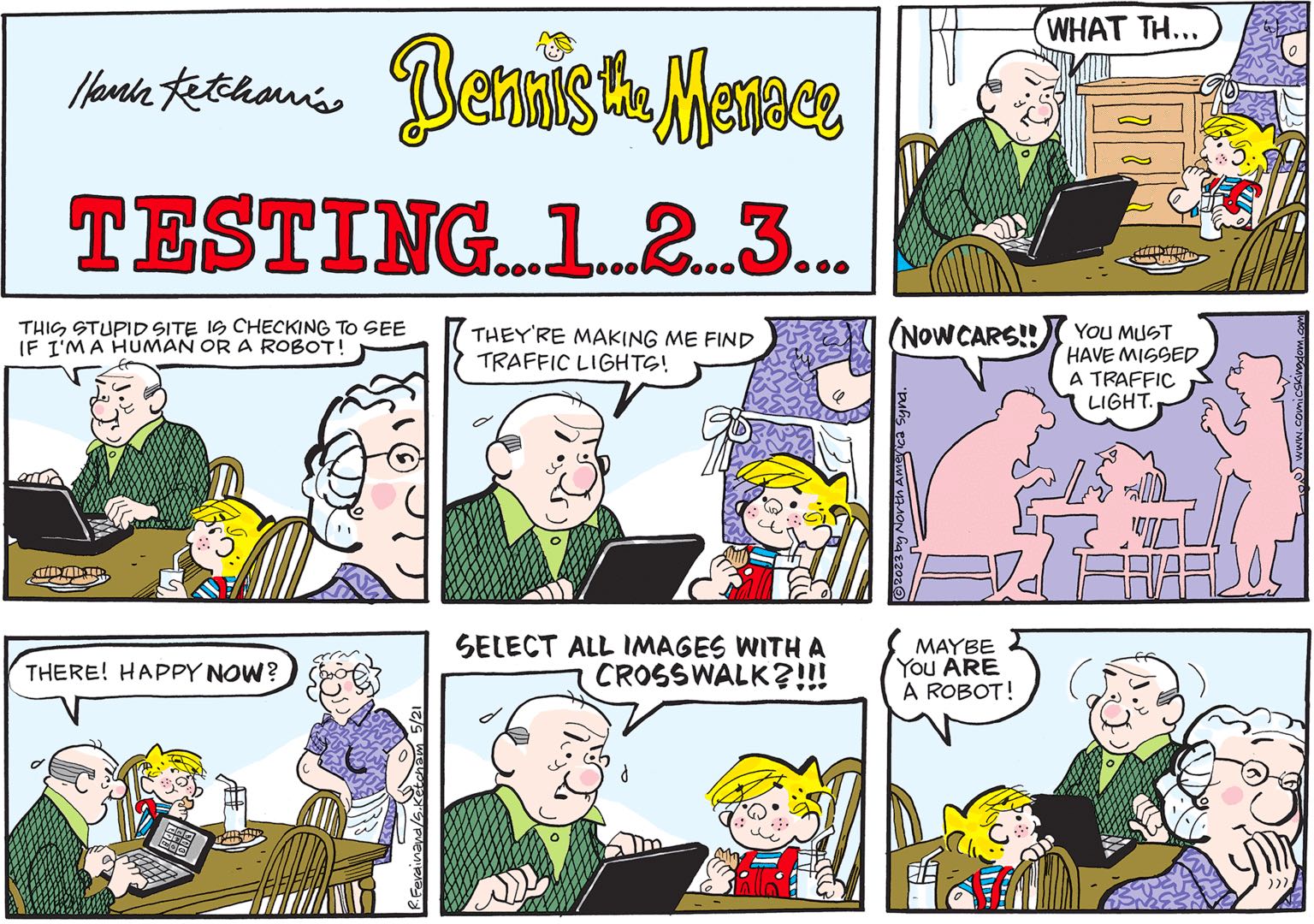 I get and honestly respect that one of the biggest advantages of writing a syndicated newspaper comic is that you can run into one of life's little modern annoyances and say to yourself, "Hey, you know who else probably finds this annoying? All the old people who read my comic strip." Of these two examples of the genre, I have to say that Beetle Beetle is by far the more successful, in that it's integrated the inciting annoyance into a character-driven joke, whereas Dennis the Menace just has Mr. Wilson yelling the things that we all, admittedly, want to yell.
Gasoline Alley, 5/21/23

Not to be a know-it-all, but the average price of a gallon of milk in the U.S. has been higher than the average price of a gallon of gasoline for 19 of the past 23 years! I'm also hung up on why Clovia says that gas AND postage is high and that's why it's cheaper to mail something than drive it. Still, I get that inflation can be a confusing economic phenomenon that doesn't affect all regions or products equally, so I want to reserve my harshest criticism for Slim, who in the final panel reveals that he thinks an oil barrel is some kind of animal or maybe plant that, when properly fed and cared for, produces more oil.