Mary Worth, 10/11/14

So it seems that Ian never confronted Hanna afte all, which explains why poor Toby was on the receiving end of his grabby, sweaty vitriol. I'm trying to focus on how glowing and ecstatic Mary looks in panel two on being given official permission to meddle in Hanna's life (by someone who doesn't really know and isn't authorized to speak for Hanna, but whatever), but to be honest I'm terribly disturbed by the quote marks Toby's put around "talk". I guess we should just think of Ian and Mary as engaged in a long-term game of good cop/bad cop with the outside world, with the thought of Ian's chinbearded visage twisted in rage being enough to get you to conform to Mary's vision of how your life should be.
Pluggers, 10/11/14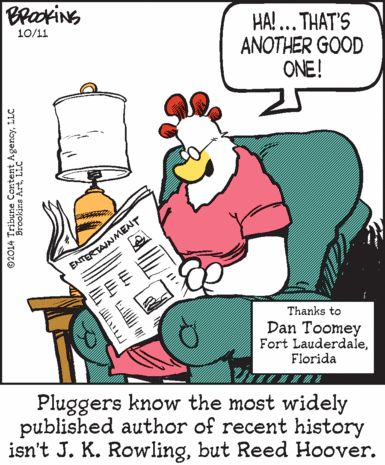 Longtime Pluggers watchers know Reed Hoover as the strip's most prolific contributor, who once got a whole week all to himself with his folksy down-home ideas for drawings of mutant beast-men. (This 2006 Dallas Morning News article serves as Reed Hoover: Origins, and also the final paragraph is amazing, so please read all the way to the end.) This is all well and good, of course, but I'm a little disturbed that Reed's name has worked its way into the panel itself, which apparently features the Pluggers chicken-lady actually reading Pluggers in her daily newspaper. Probably the best thing about pluggers is what I've always assumed to be their instinctive disgust towards post-modern self-referential narrative, and now even this has been taken away from me.