Post Content
Crankshaft, 2/15/14

This week's Crankshaft "plot" has been far too inane to discuss, involving a reality show called Ice Road School Bus Drivers — it's like Ice Road Truckers, but for school bus drivers! — filming our characters in action. The producers are no doubt disappointed that Crankshaft didn't engage in any of the property destruction or reckless endangerment of children for which he's so famous, but nevertheless, the new reality show stars are getting their reward today: cheap giveaway hats emblazoned with the show's logo. The drivers' overjoyed reaction to this is probably the saddest thing I've ever seen. "Life doesn't get any better than this!" proclaims Crankshaft, a man who helped defeat the Nazis in World War II, who has children and grandchildren, who played professional baseball, who overcame his own struggles and learned to read as an adult, who helped pay for a group of underprivileged kids from his bus route go to college. "Life doesn't get any better than this." He pulls the ill-fitting cap tightly down onto his head.
Mark Trail, 2/15/14

"I sure hope Trail is what he says he is … for his own good! If he's a person, like he says he is, then that's OK! But if he's an animal, then I'm going to have to taxidermy him. I can't stop taxidermying animals! But wait … what if a person is a kind of animal? Oh no. Oh NO. My taxidermying fingers are gettin' itchy!"
Rex Morgan, M.D., 2/15/14

Well, it looks like Sarah was right to be suspicious of her editor, because her editor intends to put her in a cage and let other little kids come and gawk at her while she churns out books. This is quite frankly the best business decision anyone at the museum has made at any point during this storyline.
Mary Worth, 2/15/14

"But let's not talk about such heavy topics now, Wilbur. Look, I've figured out that I can hold a full coffee cup using just my mouth! Pretty neat, huh?"
Pluggers, 2/15/14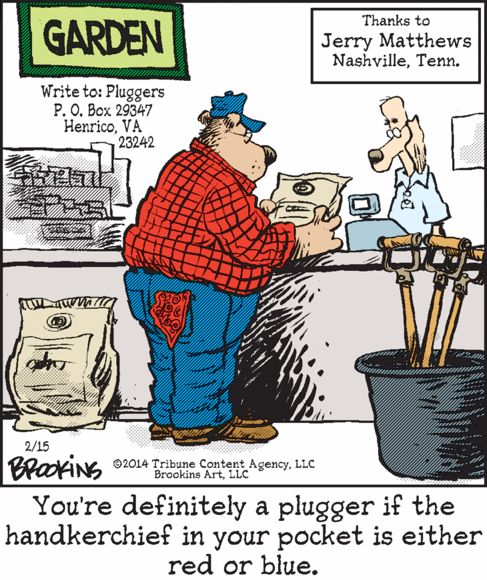 All across America's strife-torn inner cities, members of the Bloods and Crips put down their newspapers with stunned expressions on their faces. "Why are we fighting all the time?" they ask. "No matter what crew we roll with, we're all pluggers. We are all pluggers." Consider the peace increased.