Post Content
Rex Morgan, M.D., 5/5/14

After weeks of being mad that their babysitter was a terrible little whore, June has now, reluctantly, come around to the conclusion that the problem is really that her daughter is a blackmailing monster, and so she's going to have a little talk with Kelly about the situation. Sarah's creepy, unsmiling gaze, locked on Kelly in both panels, is pretty harrowing. "Remember, Kelly, snitches get stitches," is what that look is very, very forcefully saying.
Judge Parker, 5/5/14

April is of course a well-trained intelligence agent and highly skilled killer, but it's her long experience with her new in-laws that will help her out in this scenario. Remember, when trying to track down a member of the Spencer-Driver-Parker clan, just follow the trail of discarded cocktail glasses!
Spider-Man, 5/5/14

Say what you will about the ludicrous "Iron Jonah" plot that's just now wrapping up, but it did feature a surprising amount of super-heroic action! Thank goodness that's over so we can spend the next one to four weeks on more familiar ground, with some good old-fashioned feelings-processing.
Apartment 3-G, 5/5/14

"Keep it up, Tommie! You've isolated yourself from your friends and you're working yourself to exhaustion for no pay at the command of this weird, controlling dude you barely know, and you're still talking about that baby deer like it's a person! You look great, in that sweater you've been wearing for three weeks straight! I'm an actual psychiatrist, by the way!"
Pluggers and Shoe, 5/5/14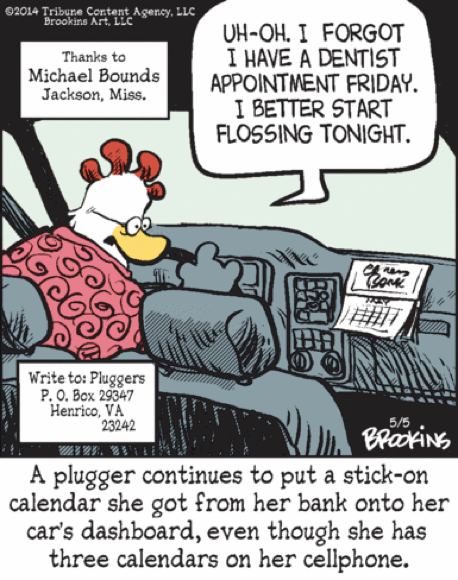 THEY'RE BIRDS DAMN IT
BIRDS
BIRDS DON'T WEAR DENTURES AND THEY DON'T GO TO THE DENTIST AND THEY DON'T FLOSS BECAUSE THEY DON'T HAVE TEEEEETH
GOD DAMN IT