Post Content
How are you celebrating America's Birthday, patriots?
Wizard of Id, 7/4/14

The Wizard of Id crew exists in some faux-medieval land far the bounty of American Freedom, yet its inhabitants are aware that the American experiment ought to mean an end to strife, and the discovery that we can join together with our former enemies to celebrate democracy.
Crock, 7/4/14

In Crock, we see the jealousy that our national greatness arouses in others, as these cruel and cynical Frenchmen mockingly pantomime our Independence Day celebrations while imposing their colonial will in the North African desert.
Dennis the Menace, 7/4/14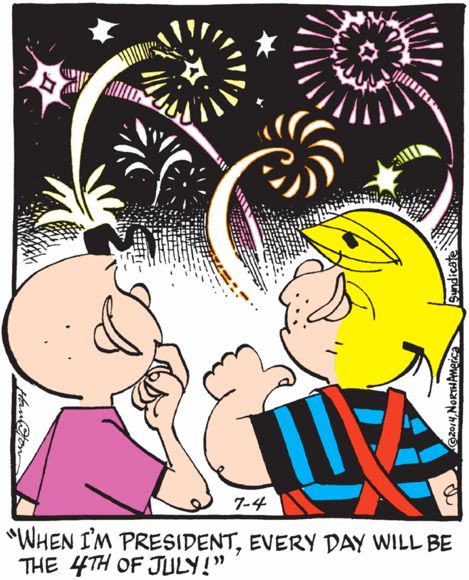 Dennis imagines his future manic dictatorship, in which the special nature of this day's celebration is lost in a ceaseless barrage of explosions, each gaudier and louder than the last, driving all rational thought from everyone's mind until they can no longer think straight enough to resist his menacing tyranny.
Family Circus, 7/4/14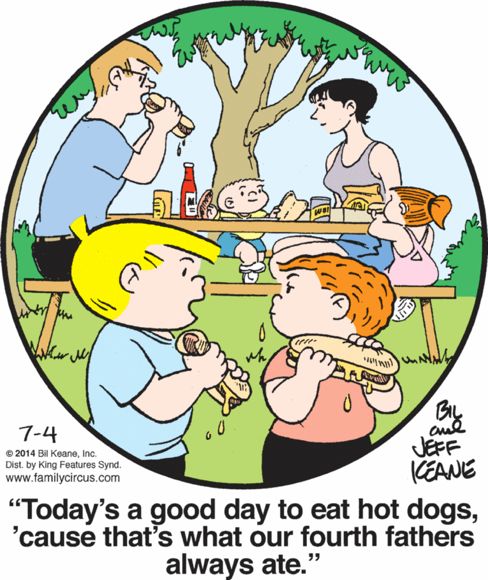 The Keane Kids represent contemporary Americans' total ignorance of our nation's Founding: they don't know or don't care that the nitrate-salt tubes and sugar-filled buns they eagerly cram down their greedy maws would have filled our first generation of political leaders with mingled terror and disgust.
Beetle Bailey, 7/4/14

Finally, Beetle Bailey reminds you to ring, not bong. Don't do drugs, kids!