Post Content
Beetle Bailey, 8/14/14

It's kind of amazing that Otto is perfectly capable of understanding symbolic language — for instance, he knows that fire hydrants are a longstanding visual shorthand for dog urination in our culture, even though no dog urinates exclusively on fire hydrants — and yet he somehow can't figure out how to go to the bathroom in a toilet.
Dick Tracy, 8/14/14

These movie assignations are actually a cover for Dick and Annie to discuss their escape from Weird Maybe Time-Travel Island, but still, the idea that an adult police officer would help break a tween girl's crush on him by literally taking her on dates is pretty gross! Haha, but everyone in ThePastBurg wants to get into Officer Tracy's pants, so it's totally OK.
Funky Winkerbean, 8/14/14

Hey, remember a couple days ago when I said Les's fantasy sequence would be mildly more interesting than the whole Lisa's Story movie plotline? Well, that was before I knew it would involve sexy ladies trying to get Les to have sex with them! Now it's grosser, and not just mildly grosser.
Mark Trail, 8/14/14

Mark trail is such a dedicated naturalist that he's going to make sure you know what kind of python this is, before, under duress and with great respect and sadness, he's forced to slice off its head.
Wizard of Id, 8/14/14

In a cross-promotion of the Discovery Channel's Shark Week that I'm sadly certain is entirely unpaid, the Wiz in Wizard of Id has turned himself into a shark! A shark that yearns for shark-sex with lady sharks. The intersection of monogamy and animagery is in fact deeply complex.
Pluggers, 8/14/14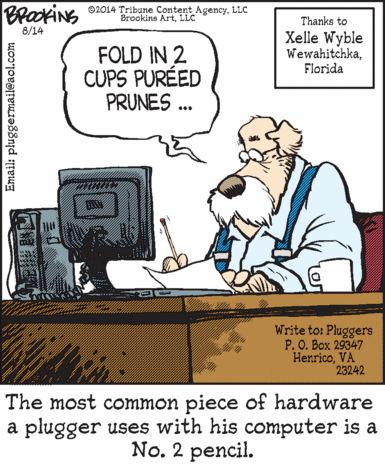 The most common use a plugger has for computers is figuring out how to poop more easily.