Post Content
Mary Worth, 8/21/14

Boy, I've really been dropping the ball on this Mary Worth storyline for the past few weeks, haven't I? The short version is that Olive's medical procedure went well and that pesky cyst was successfully removed from her torso! Today, we learn that she's been carrying it around in a little purse ever since.
Dennis the Menace, 8/21/14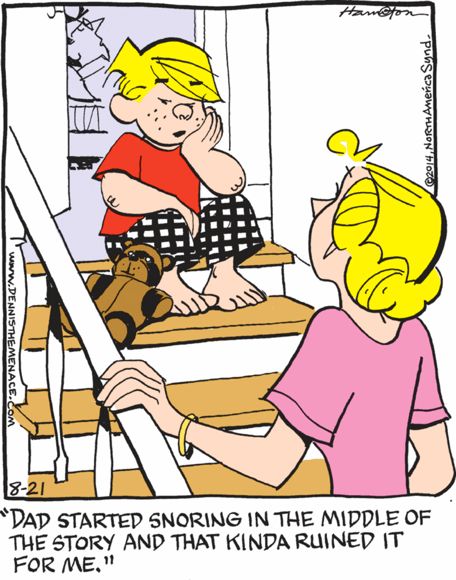 "Dad's inability or unwillingness to really be present for me during these fleeting, precious moments is kinda ruining my childhood for me. Hope you don't stay up all night despairing over what a terrible job you guys are doing as parents!" Menacing factor: strong.
Funky Winkerbean, 8/21/14

Les is super excited about the fact that the movie adaptation of his book (for which he's already been paid handsomely) has now completely unravelled. The failure of the project will almost certainly damage the careers and finances of any number of people and companies who believed in it. Les is excited about this because he's an asshole.
Judge Parker, 8/21/14

Hmm, in addition having her work as legal secretary at what he thought was a thriving practice, Sam also tasked Gloria with managing his daughter's finances! NOPE NO IDEA WHY SHE'D WANT TO QUIT THIS JOB, NONE AT ALL
Wizard of Id, 8/21/14

You know, considering how often the Wizard of Id uses actual torture as a punchline, I'm kind of surprised that it would be the strip that really manages to boil Orwell's ideas about how dictatorships control thought through control of language into a single, effective panel.
Spider-Man, 8/21/14

Spider-Man is going to use his superpowers to more effectively photograph one of his main antagonists successfully fighting crime, so he can sell those photographs at poverty-level freelance print journalist prices! I know there's no TV watching involved, but we may have hit Peak Newspaper Spider-Man, guys.