Post Content
Judge Parker, 11/23/16

Just so you know, Sam is going full-on Failure-To-Shave/Making-A-Bulletin-Board-Of-Clues Crazy over Sophie's disappearance. And I assume the man he refuses to represent is Garrick Panini? Sam, Sam, Panini's chock full of clues! This is your best chance to find out the truth! Pull apart his toasted outsides and look at the gooey, delicious information within, metaphorically!
Barney Google and Snuffy Smith, 11/23/16

Having failed to successfully bag a turkey for Thanksgiving dinner, Snuffy and Lukey are just going to rob the general store at gunpoint.
Blondie, 11/23/16

Wow, Dagwood's doing a lot of projection here. I think we all know who does and does not have a crypto-sexual fixation on food in this family.
The Lockhorns, 11/23/16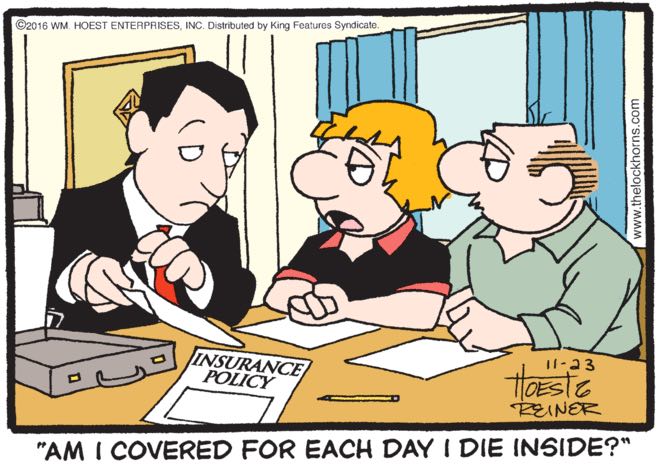 I know this isn't the sort of thing I usually say, but … maybe The Lockhorns should dial back the existential despair? Maybe just a little.
Mark Trail, 11/23/16

Guys, the island in Mark Trail is still just straight-up exploding! I guess if you need to put more stuff on your list of things to be thankful for, "non-stop explosions in Mark Trail" is a good one to add near the top.
Mary Worth, 11/23/16

Very excited to get a close-up on these guys we first saw yesterday. I think we can say it definitively now: this is Mary Worth's idea of what young people look like.