Post Content
Crock, 8/10/18

So, uh, seven years ago Bill Rechin, the creator of Crock, died, and then a year after that his son Kevin, who had taken over, said that continuing the strip made him depressed so he wasn't going to do it anymore, and, uh, well, it's 2018 now and Crock still appears on King Features' website (and presumably in print newspapers, who can say, someone who still subscribes to a print newspaper, I guess) with "©2018" at the bottom, and I just have never really gotten a handle on whether they're reruns or someone is still churning these out or what. What I'm saying is, it might've been just barely possible in 2011 to imagine that there was a living person who believed that "chat rooms" were a kind of online space that was common and that "Dear chat room" was a normal and believable way someone introduced themselves there. Today, though, when we have Facebook groups like "Carrion Eaters Discussion Group (Positive Vibes Only)" and subreddits like /r/eatersofthedead and probably darkweb sites where you can use bitcoin to buy meat at exactly the right level of rottedness for your needs — well, this strip needs to get with the times, is what I'm saying.
Family Circus, 8/10/18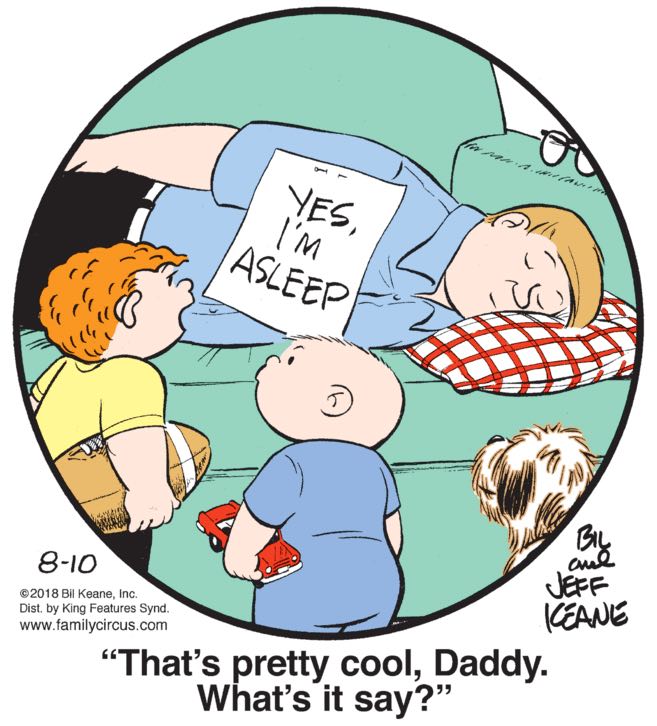 Jeffy is at that developmental stage where he thinks that the ability to record language via writing is "hip" and "with it" but can't actually read yet. I guess Big Daddy Keane was banking on at least one of the literate kids being with the younger ones at all times, forgetting what he ought to know deep in his bones: nobody wants to hang around with Jeffy.
Funky Winkerbean, 8/10/18

Because I hate myself, I actually dug through my archives to find the last wedding they had at Montoni's, which was apparently back in 2014, although that was when Wally and Rachel tried to get married outdoors but were driven by a vengeful God into Northeast Ohio's most depressing pizza parlor. Speaking of hating yourself, though, Cory and Rocky look to be actually contemplating using the family's grease-stained sadness hole as their Plan A, possibly because it's the only retail business in town still in business other than Komix Korner and they still have just the tiniest shred of dignity left.
Gasoline Alley, 8/10/18

"I always say — most of our material circumstances are determined by inherited wealth, and meritocracy is a lie!"
Rex Morgan, M.D., 8/10/18

THAT'S MY BOY! THIS IS THE HIGH POINT OF MY LIFE! MY MARRIAGE TO YOUR MOTHER, YOUR FIRST STEPS — ALL BULLSHIT! THIS IS THE BEST GAME OF PINBALL I'VE EVER PLAYED AND I'M GONNA SPEND MY FEW REMAINING YEARS WATCHING IT OVER AND OVER AND OVER AGAIN, SO KEEP FILMING OR SO HELP ME GOD YOU'LL REGRET IT