Post Content
Mark Trail, 10/4/19

I don't exactly blame Mark for not being active on social media, what with it being a terrible nightmare cesspool that broke humanity's collective brain, but as a guy who has a bit of a social media presence myself, I have a word of advice for Mark: you can't just join Twitter and then immediately start tweeting about how you've got exclusive photos of the yeti, because nobody's going to believe you! You should have spent years tweeting out links to your boring diatribes about lizards or whatever, in order to build up credibility.
Dennis the Menace, 10/4/19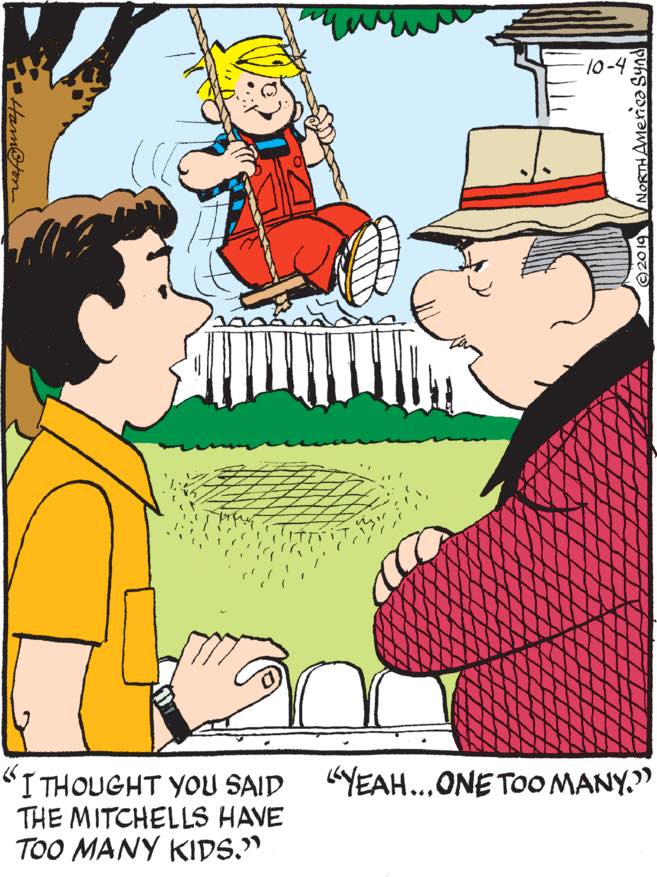 I'm assuming that this young guy is a relatively new arrival in the neighborhood, and that upon meeting him Mr. Wilson was like "Oh, watch out for the Mitchells … they have too many kids" hoping that the guy would ask how many they have, but he instead he just changes the subject because that's actually an incredibly weird and rude thing to say to a near-stranger and it made him uncomfortable to hear it, and probably Mr. Wilson repeated it several times and the guy just never bit, and now, finally, despite the new guy's best efforts, they've bumped into each other by the Mitchells' fence, and Mr. Wilson says, smugly, "There's Dennis, the Mitchells' only kid," and finally the guy has had enough, and he sighs heavily then says this. You're all with me here? That's the only logical lead-in to this exchange, right?
Beetle Bailey, 10/4/19

"But he asked for it," Spc. Gizmo yelled, being dragged from the courtroom after he was found guilty at his court martial for crimes against humanity. "He requested the procedure. He requested the procedure!"
Mary Worth, 10/4/19

Oh no, oh no, the Mary Worth creative team is aware of the concept of "Netflix and chill," threat level alpha, repeat, threat level alpha