Post Content
Mary Worth, 6/8/23

Looks like Santa Royale Action News has gotten wind of the van-based dognapping gang haunting the region, and thank goodness they're interviewing this nice lady instead of Saul. People are going to see her on TV and think "Oh no! Our city's pets and their owners are being victimized! We must stop at no expense to defeat these evil criminals!" If they had seen Saul, their reaction would be more "Honey, get in here, there's a little dude in a bowtie on the news! Ha ha, he's blubberin' about his dog or something."
Rex Morgan, M.D., 6/8/23

As we discussed, Niki may have given up his cool hairstyle, but I'm happy to report that his mom is sticking with hers. She knows that Daryl Hannah's chracter in Blade Runner was the pinnacle of fashion and she simply has no interest in making any changes at this time. Did she also stick with her meth manufacturing business? Probably not, right? 2023-ear Niki looks like a narc, I'm assuming he scared her straight.
The Lockhorns, 6/8/23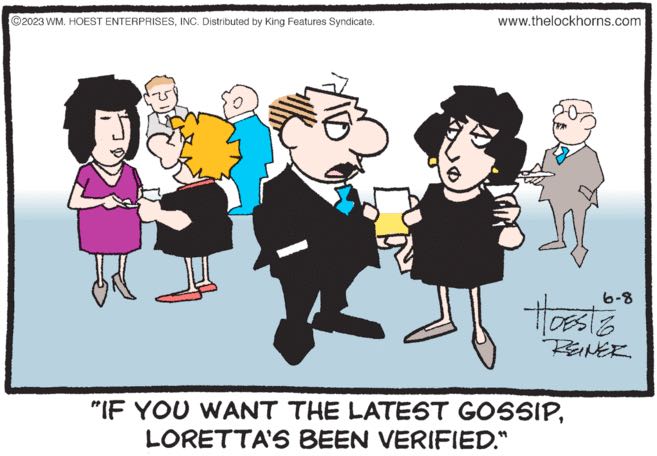 Leroy is, canonically, a Reddit guy, so you can see why he finds the fact that Loretta has paid $8 for a blue Twitter check so embarrassing. Obviously he's not a fan of most of the stuff she does but you can see an even deeper contempt in his eyes than usual here.
Pluggers, 6/8/23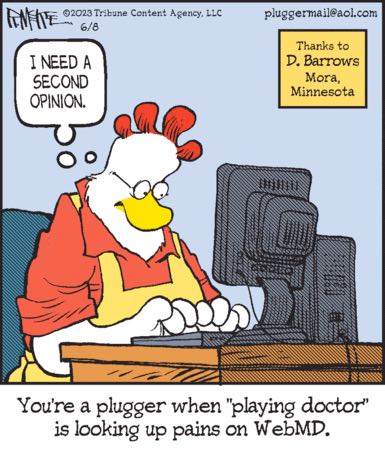 This phrase most of you associate with playful, youthful sexuality? To pluggers, it means pain, physical pain that they don't trust anyone to diagnose or treat. This one is, uh, a little much, guys.