Post Content
Dustin, 9/14/23

Apologies (?) for not showing you yesterday's Dustin, which consisted of Dustin asking his dad to guess the global gross domestic product, and Dustin's dad guessing $100 trillion when the actual answer was $102 trillion (according to the strip, anyway, but if you think I'm doing any research whatsoever to fact-check a gag in Dustin you are sorely mistaken), and there was some bemused discussion of how his guess was quite close in relative terms despite being off by $2 trillion, a very large sum when considered on its own. Anyway, this was annoying but not that annoying — certainly not that annoying by Dustin's usual standards — so I didn't bother talking about it here. But repeating the exact same "joke" today, with nothing new added other than a shuffle in the lineup of characters saying it? Well, that's annoying enough to bring to your attention. If they try to get a whole week out of this concept, I'm going to be very annoyed indeed.
The Lockhorns, 9/14/23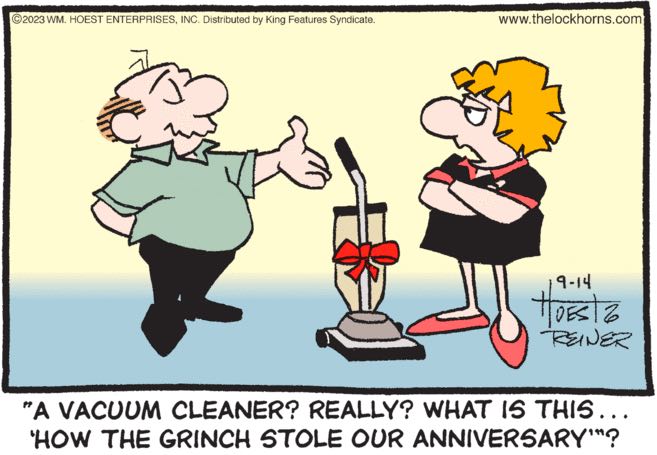 See, if you're going to do a themed week, you really need to follow the lead of The Lockhorns and do it with a real purity of purpose and tight focus. This week is apparently "Lockhorns anniversary week," the theme of which is that Leroy and Loretta use the occasion to attack and belittle one another in anniversary-specific ways, as opposed to the more general ways in which they do it over the rest of the year.
Gil Thorp, 9/14/23

Wow, it looks like Toby and Rod really used their time in prison to sharpen their football skills, huh? This is going to send an important message to student-athletes everywhere: that the best way to get a leg up is to go to juvie where they'll be forced to play football for the entertainment of a sadistic warden, so they need to do some crimes, but not crimes so serious that they get sent to adult prison, where the sadistic warden can only be entertained by no-holds-barred steel cage matches.
Blondie, 9/14/23

Love the way Elmo is solemnly making direct eye contact with the reader in the final panel here. This truly is an important lesson about school picture day that America's children need to learn, which is why it's so tragic that no children read Blondie.
Rex Morgan, M.D., 9/14/23

RENE THEY ARE ONLY TRYING TO PAY YOU THE MONEY YOU ARE OWED AS EFFICIENTLY AS POSSIBLE, WHY DOES EVERYTHING HAVE TO BE CRIME AND THREATS WITH YOU