Post Content
Click the banner to contribute to the Comics Curmudgeon. Details here.

Hey, it's the Comics Curmudgeon Fall 2013 Fundraiser! Donate a few bucks, and increase global net happiness — yours, too!

---
Heathcliff, 10/14/13, 10/15/13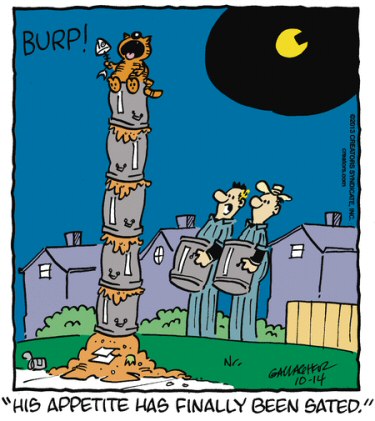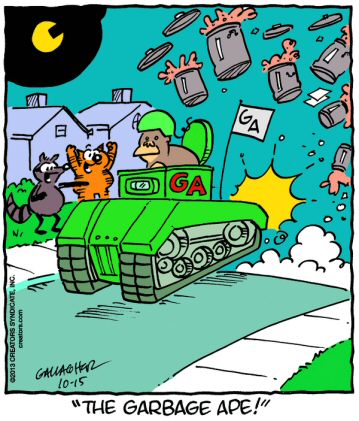 What goes on by night in Heathcliff's neighborhood just got a lot more disturbing. Heathcliff has quintupled his garbage consumption in just a few short months, and now requires armored strikes by Garbage Ape just to keep him in slop. I fear he is building his strength for an apocalyptic conflict with Marmaduke for absolute domination of the comics page, and I'm not sure which one to back. In this business, you don't want to be wrong about something like that.
One Big Happy, 10/14/13, 10/15/13


Meanwhile, Ruthie's got a raven to sleep in her princess doll bed, hide in her closet, and share her breakfast. The raven tells her secrets. Terrible, terrible secrets that all ravens know but little girls must not.
Stupid raven, leave her alone — she's just a little girl! I don't care how much you like Trix!
Gil Thorp, 10/14/13

First I wrote, "Gil Thorp is getting a little annoying", but the sentence just laughed at me so I put these other words around it. John Pascoe is a skilled football player who can talk but doesn't. Nobody else can seem to shut up about this. Including, now, me. Crap.
---
— Uncle Lumpy