Post Content
In most of the Western world, Easter falls on a Sunday this year — and cartoonists are taking full advantage! Let's see what treats they've hidden for us!
Sally Forth, 4/12/09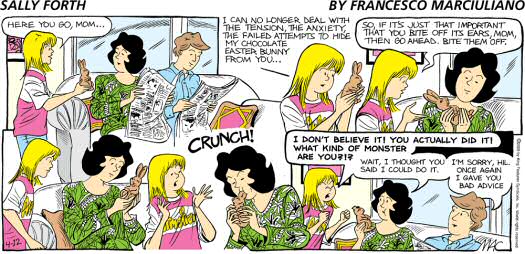 Oh Sally, Sally. Remember this as you wake on your blood-soaked pillow, deaf to your own screams.
Family Circus, 4/12/09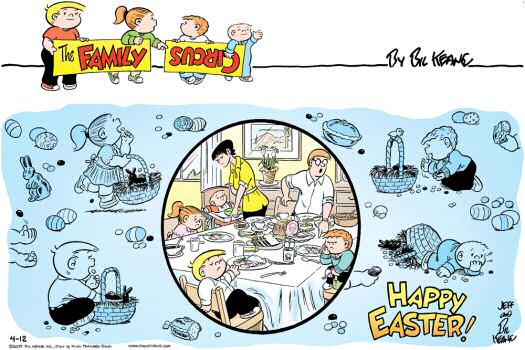 Greed, Gluttony, Sloth, and Wrath can mean only one thing — Easter with the Keanes! They've dialed back the Pride, Envy, and Lust 'cause it's a family strip.
Slylock Fox, 4/12/09

They're all the same to the bunny, pal — all the same.
My Cage (panel), Hägar the Horrible (pänel), 4/12/09

Even pagans can join in the Easter fun! Here's Demeter (Ceres to you Reform Pagans) passing out bread products, while Hägar welcomes Sól's return.
Rex Morgan MD (panel), Phantom (panel), 4/12/09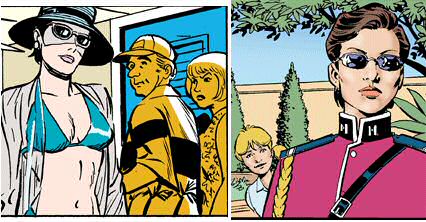 And hey, never mind the calendar — June is bustin' out all over! Mr. and Mrs. Oldfolks McTourist may take a jaundiced view, but young Heloise Walker seems, well, intrigued. So maybe one more Phantom and that's it? You gotta admit, 22 is a pretty good run — and why do we need a Phantom, anyway? That whole "African piracy" thing — nobody worries about that any more — right?
In case you missed it (I did!) this PBS Mediashift article features Josh, Ces, the AJGLU-3000 and other local favorites! Link courtesy of Ces.
— Uncle Lumpy