Post Content
Click the banner to contribute to the Comics Curmudgeon. Details here.

Por favor, contribuye generosamente a la Cascarrabias Cómics. ¡PRISA — hoy es el último día!
---
Blondie, 5/5/16

In Chilean Spanish, a "nuco" is a nocturnal bird, like an owl. So for Mexico's Cinco de Mayo celebration, Dag's diner is serving up grilled Chilean owl. I would've gone with the sea bass.
Six Chix, 5/5/16

Somehow the passive aggression just makes the bossiness worse.
Barney Google and Snuffy Smith, 5/5/16

Hutch was firstborn, for sure.
Pluggers, 5/5/16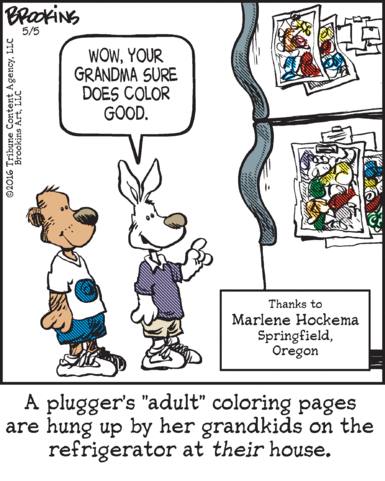 Pluggers send their grandkids homemade porn.
Wizard of Id, 5/5/16

Yes, like the Wiz is exhausting that adorable little fart in the last panel there.
Dick Tracy, 5/5/16

Oh boy, Dick Tracy's police state is tattooing prisoners now.
In the current thread among so, so, many, goat-goateed Notta Fallar framed Tracy by releasing a video of herself making out with Putty Puss disguised as Tracy. Bluenose Mayor Armstrong suspended him, so he called in a favor from pal Oliver Warbucks, who hired lawyer Mr. Kleen to press Tracy's case. I was certain Mr. Kleen was going to be an intentionally ironic name for any lawyer who works in Dick Tracy (like Law and Order's Judge Softon Crime), but nooo – he's just some guy with a Purell® jones and apparently, a real aversion to legal work.
Zits, 5/5/16

Jeremy Duncan used to have a serious case of the hots for his guidance counselor. Farewell to adolescence, I guess. Who knows what comes next? Not him!
---
– Uncle Lumpy