Post Content
Mark Trail, 2/18/17

So this week's Mark Trail has been a lot of boring blah blah between some white lady and some African dude in an airport in Africa about how dumb liberals don't get how hunting majestic African wildlife is a good thing for everyone concerned, but then we got to the end of the week and HOLY COW, GUYS, IT'S THE RETURN OF CHRIS "DIRTY" DYER, STAR OF ONE OF THE GREATEST MARK TRAIL PANELS OF ALL TIME: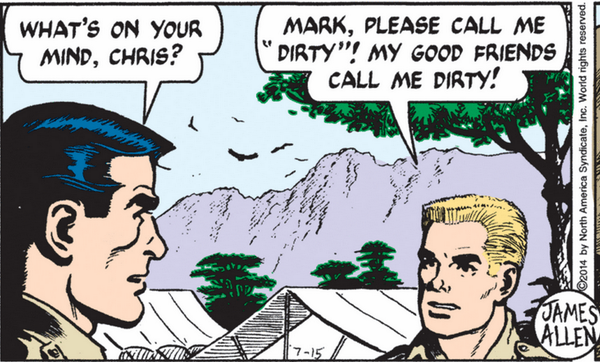 See, Mark headed over to Africa on a big rhino poaching story, hooked up with a safari group that "Dirty" and his love-object Lori were part of, and had to assure "Dirty" that he did not want get together with Lori to "do the dirty" (this is literally what Mark calls sex, but he uses a child's voice when he says it, not a crude bro's voice). Later it turned out that "Dirty" was in fact the rhino poacher, and the angry rhinos ran his car off the road in revenge, and that after that he died. OR DID HE????? Well, no, he didn't, because he's right here, in today's strip, only slightly worse for wear, if you consider having an eye gouged out "only slightly worse for wear." Anyway, I look forward to discovering what shenanigans "Dirty" is up to (probably more poaching???), and why it is that he went to the trouble of faking his death but then still goes around introducing himself by his actual name.
Pluggers, 2/18/17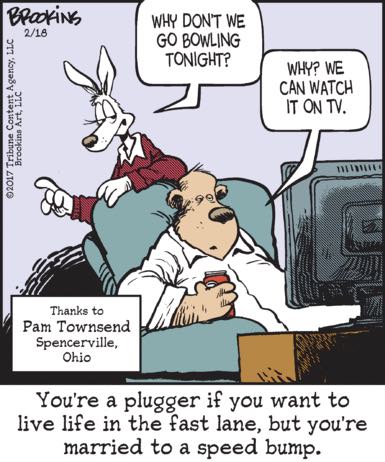 For a long time, the Top Two Most Depressing Pluggers Ever were clearly "Rhino-Man Hocks His TV" and "Kangaroo Lady Approaches Her Emotional Breaking Point", but I think we may have a new contender today? Ha ha, it's funny because … she wants to get out of the house and do something, anything, with her husband, but he just wants to point his bleary eyes in the vague direction of the television and let the beer annihilate anything resembling an emotion that attempts to pass through his brain!
Rex Morgan, M.D., 2/18/17

Oh, yeah, I forgot to mention that right before Buck's Comic-Con adventure got underway, he had a meet-cute with a nice lady at the gym that Rex made him go to. Laid up in his hospital bed, and having failed to emotionally connect with his son, he figures now's the time to take that relationship to the next level, phone-sex wise! "Hey, Mindy … yeah, I have some more privacy now … damn, girl, just thinking of you is making me dizzy … or maybe that's the dehydration from carrying around too many comic books for hours … anyway — hello? hello?"
Barney Google and Snuffy Smith, 2/18/17

Oh sure, these fellas are all tongue-lollin' laffs now, but when Snuffy gets wind of this, he might decide to both boost his revenues from his business as a huntin' guide and take care of his gambling debts by promising rich flatlanders that lawless, forgotten Hootin' Holler is the perfect place to pursue "the most dangerous game."