Post Content
Click the banner to contribute by PayPal, or here for other options.

It's the 2021 Comics Curmudgeon Summer Fundraiser! Choose your own payment modality!
---
Dick Tracy, 9/2/21

So this guy who may or may not be "Little" Notting a.k.a Ace of Spades snuck into Apparatus HQ with a plan for world domination using Diet Smith's Time Drone. The Apparatus can be the first to steal it! Of course that won't do any good, since the second outfit to steal it will send it right back in time to foil the original theft!
I can't wait for Diet Smith's press conference to be interrupted by an endless parade of stolen Time Drones, all crashing into one another and dropping to the floor, burying Diet under an enormous pile of broken Time Drones until he cancels the presser so the first Time Drone is never introduced. At that point, of course, the whole pile of stolen drones will disappear, leaving Diet sitting alone on the floor with a busted cigar in his mouth and a stupid look on his face. That's the way this stuff works, right?
Daddy Daze, 9/2/21

Aw, Daddy wants to make sure Angus eats his vegetables!
Baby Blues, 9/2/21
Yes, Wanda—but you're the one who chose the mullet. And from appearances, Darryl's still wearing it; it's just on backwards.
And OK, I know this will be a back-to-school "Zoe runs for class president" arc, but may we please have "The Press digs into Wanda's past" next? Please? I'm sure it's a treasure trove of erotic depravity.
Speaking of which, did we miss the Wedding of the Century?
9 Chickweed Lane, 9/1/21 (panel)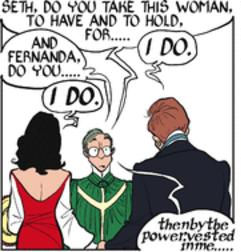 There you go. Now on to the important stuff:
9 Chickweed Lane, 9/2/21

I guess we won't get to see if Seth's ex Mark is bawling his eyes out in a back pew, throwing Seth's clothing out his apartment window, or waiting in a red Alfa Duetto just outside.
Judge Parker, 9/2/21

A pattern is emerging in Judge Parker. Once a building—Sophie's kidnap house, Neddy's factory, Abbey's Bed and Breakfast— outlives its usefulness it blows up, sinks into the earth, or burns down. Cavelton urban renewal! Abbey's just upset that the job hasn't been properly done: it is just so damn hard to find good help these days!
---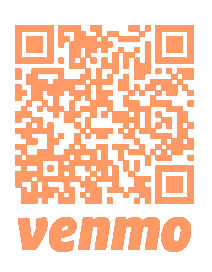 Josh's favorite Salmon Square!
— Uncle Lumpy