Post Content
So ends the Comics Curmudgeon 2008 Fall Fundraiser. A sincere thank you to all the many contributors for your generous donations, and to all our faithful readers for your patience. Ads and fundraisers help keep CC going, but we know it's not why you're here. So here's an extra-large serving of tasty, tasty comics for your Saturday enjoyment!
Mark Trail, 10/4/08

See? See? This is why Little Miss "Daddy Died and Gave Me His Big Ol' Company" Sue Butler will never break that glass ceiling into the top echelon of rapacious capitalism. You can see it in panel two, where she's all "Oh, I am in Mortal Danger" and "Oh, I hope some oddly affectless Man of Action with waxy hair hears my anguished cries!" A true Titan of Industry would be thinking, "Hey, this is great! Now we can say we're draining the wetlands to save the children from gators!"
Oh, and "Go Blue and Orange!"

Gasoline Alley, 10/4/08

Rover's got potential, though: "Oh, thank Heaven, my benefactor died before he could discover my fraud!" (Let's not dwell on the fact that if Sultan P. had in fact been trying to install Rover's invention on a fuel-injected car, he would have discovered the fraud.) But genius inventor or not, I wonder if Rover really has the smarts for the top job — most folks wipe the side of the face on which they're actually sweating.

Beetle Bailey, 10/4/08

At last, the Beetle Bailey/Marmaduke crossover. This one goes on the fridge!

The Phantom, 10/4/08

Looks like Ghost-Who-Hemmorrhages has a grim mission for Ol' Doc Poor-but-Noble here. But inquiring minds want to know, what's Ol' Doc reading?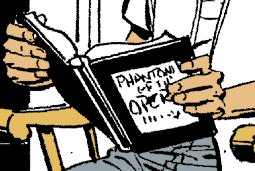 Aha! One imagines that entire panel-one bookcase is stuffed with Phantom-related literature like this, this, and this. Probably some correspondence course he's taking for when he takes over from Stripey in a couple days. NEXT!

Archie, 10/4/08

OMG TEH KIDZ + TEH TECHNOLOGY ROFLMAO!
Archie archivists will note that the child is Leroy, Veronica's cousin* and, in the comic books and digests, Archie's tormentor. Of course, the ALGU-3000 knows none of this beyond:
PROCEDURE CHAR_LOC.
Begin.
DISPLAY "Enter location and character.".
ACCEPT Loc.
ACCEPT Char.
PERFORM UNTIL NOT ValidLoc.
EVALUATE TRUE
WHEN Lodge_Mansion DISPLAY "Location is valid."
WHEN Char_Residence DISPLAY "Character residence is valid."
WHEN OTHER DISPLAY "HA HA HA -- O TEH KIDZ!"
END-EVALUATE
END-PERFORM
STOP RUN.
* Update: Not "brother" as originally posted. Thank you, faithful readers!
Sally Forth, 10/4/08

Hey, Sally's finally ready for her makeover — Let's help!
Lose the jumper
Hairstyle, sweetie. For the love of God.
[Reader input!]
Apartment 3-G, 10/4/08

So, they're investigating drug abuse by a dead guy? What're they gonna do, put him in Hell Jail?

Blondie, 10/4/08

Poor, desperate Blondie's sexytalk and coy strapslip lure Dagwood into the kitchen, not out of his pyjamas. His bagel-themed pyjamas. I swear she'd have better luck with frickin' Sam Driver.

Judge Parker, 10/4/08

Well, speak of the devil! Alas, this is all just boring exposition (ha ha!), but lest anyone forget, Abby Spencer is headed to Scottsdale for some damn plot-device horse show. I'm praying her arrival will coincide with writer Woody Wilson's departure on a long journey, stopping the plot cold and leaving Abby, Heidi, Dixie, and us-y in the strong but supple and surprisingly tender hands of artist Eduardo Barreto. Masterful hands! Maybe a long and fatal journey?
Hey — it's Broderick Crawford Day! Enjoy!

— Uncle Lumpy