Post Content
You almost certainly have noticed that King Features has washed its comics in pink today in honor of Breast Cancer Awareness Month! How has our favorite art form managed to acknowledge this important issue in the context of its usual light-hearted fare? Let's take a look!
Rhymes With Orange and My Cage, 10/10/10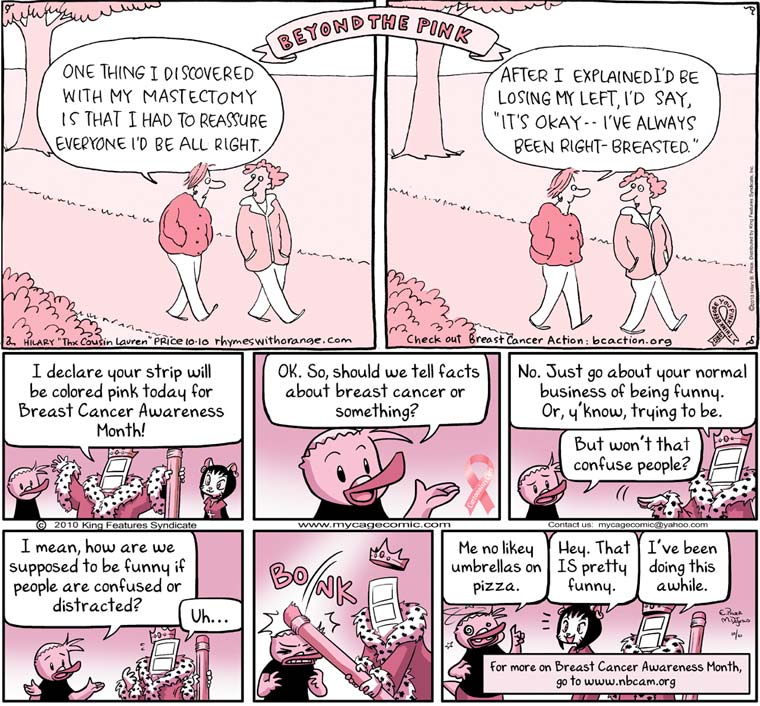 Rhymes With Orange is, as near as I can tell, the only strip with the guts to do an actual joke about breast cancer. My Cage at least attempts a Breast Cancer Awareness meta-joke.
Marvin and Curtis, 10/10/10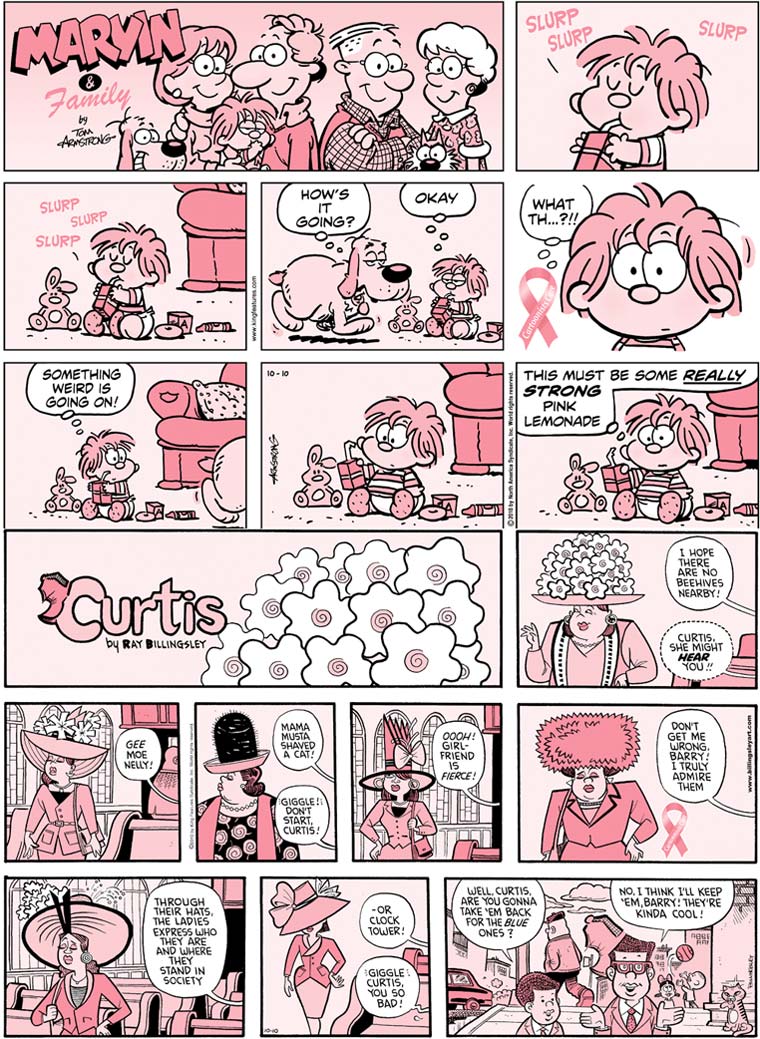 Some strips did a half-hearted job of trying to explain why they were all pinkish without acknowledging the "you or your loved ones might get terrible cancer" subtext. For instance, Marvin's parents are apparently giving him psychoactive drugs, and Curtis is attempting to up his enjoyment of ladies' church hats by literally viewing them through rose-colored glasses.
Apartment 3-G, 10/10/10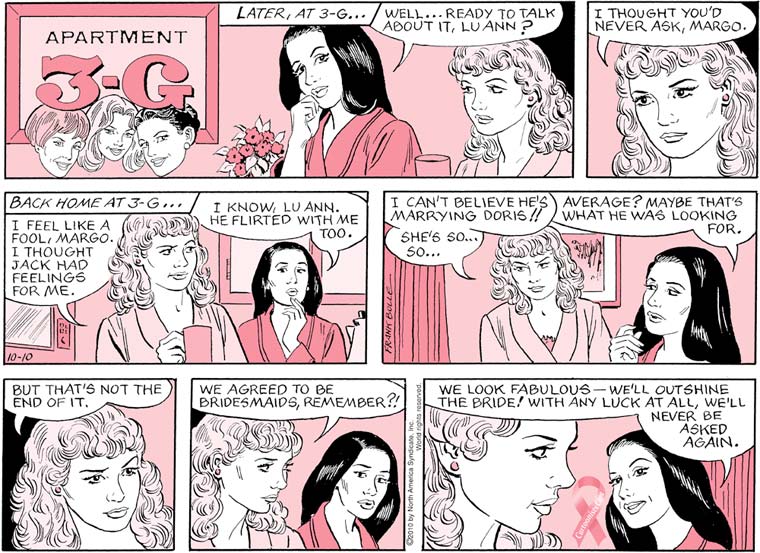 Mostly, though, the creators just churned the strips through a Breast Cancer Awareness Photoshop filter, shoehorned a pink ribbon in wherever it would fit, and went about their business. This sometimes had awkward results. Here, the ribbon of female solidarity silently shames Lu Ann and Margo, who are engaged in petty intragender squabbling.
Rex Morgan, M.D., 10/10/10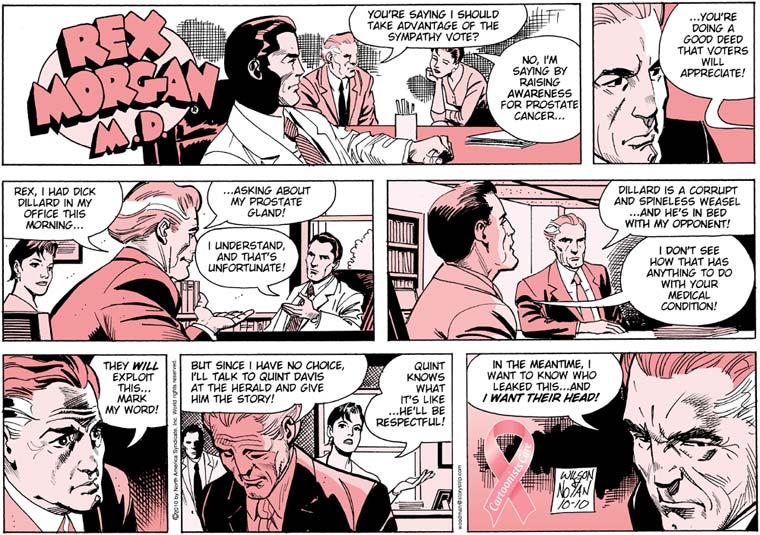 Breast Cancer Awareness Month had the bad form this year to fall smack in the middle of Rex Morgan's attempt to raise awareness of prostate cancer. At least the pink ribbon had the good sense to not float right next to June's word balloon in panel one, stealing its awareness-raising thunder. Still, the noble ribbon is oddly juxtaposed with the mayor's final-panel threat to decapitate whoever is raising awareness about his own personal tumor-ridden prostate gland.
Blondie, 10/10/10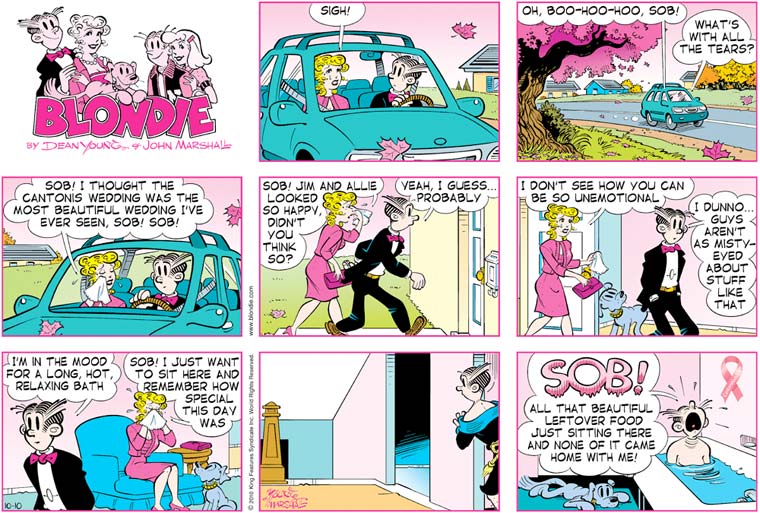 Blondie deserves kudos for not simply slathering Pepto-Bismol all over everything but rather integrating pink relatively tastefully into the color scheme of the Sunday strip.
Funky Winkerbean and Crankshaft, 10/10/10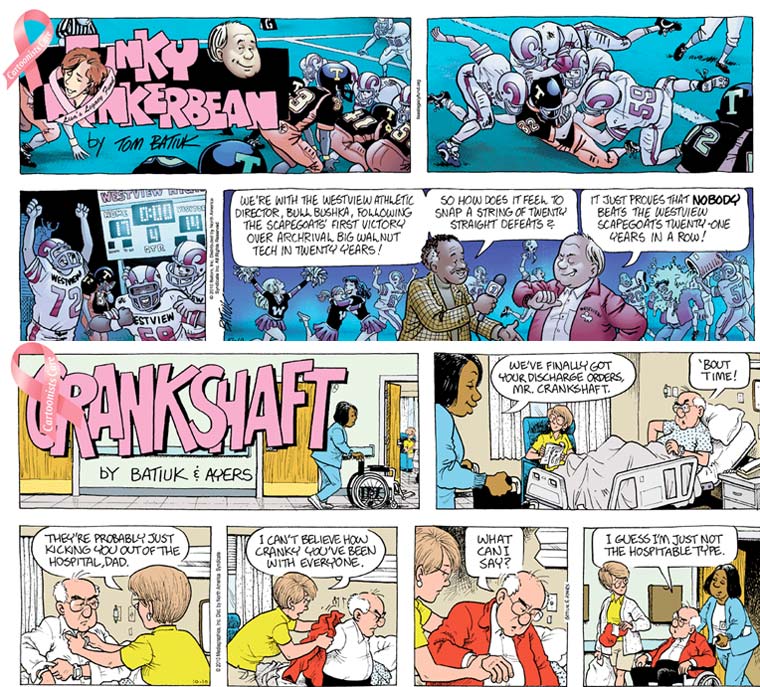 Shockingly, the Winkerverse strips are mostly pink-free, though Funky Winkerbean did pair up the boilerplate "Cartoonists Care" ribbon with a hand-drawn "Lisa's Legacy" ribbon, as if to say "We don't need to do this crap because we own this issue. We are aware of cancer and suffering and pain 365 days a year, to the exclusion of all else."
Spider-Man, 10/10/10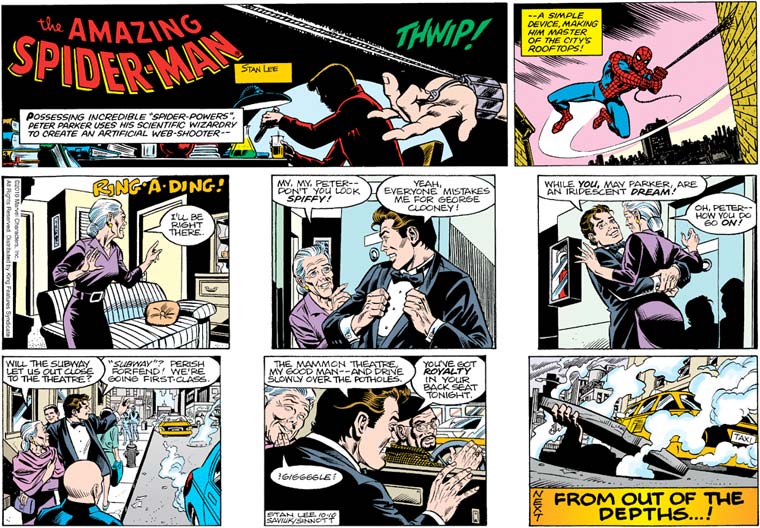 And, of course, Spider-Man ignored the campaign completely, the better to reflect Peter Parker's longstanding tradition of just stone cold not giving a shit.