Post Content
It's the Comics Curmudgeon Fall Fundraiser!
9/22 Update: If your contribution arrived before 9:00 (e) yesterday, your "What Would Margo Do?" bracelet is in the mail! Thank you!
Click the banner above to contribute any amount — and receive your "What Would Margo Do?" bracelet with our thanks! Full details here.

---
Mary Worth, 9/22/09

Shots ring out in the seedy Santa Royale warehouse district as Operation H-Town goes down! Detective Scott Hewlett seems determined to shoot his own team leader there in panel 1 — maybe because the guy's hiding in a box, or maybe for his shaky grasp of the concept of "arrest." But the '70's thugs in panel 2 aren't waiting for Scott's move: they may not be "reasonable men and women", but they know how to act on "an expectation that they are free to leave."
Operation H-Town Update: Faithful reader 8th Man Fan has generously created Scott's Drug Bust Pool spreadsheet, where you can track such issues as:
What day will Scott arrive at the hospital?
What will his condition be?
When will Adrian express her shame and self-loathing?*
What is the final outcome?
* for the events of this story line, not the Ted Confey story — no cheating, you rascal!
Play along using the awesome Scott's Drug Bust Pool Form. Thank you, faithful reader 8th Man Fan!
Crankshaft, 9/22/09

Ed Crankshaft: not just old and nasty — old, nasty, and weak. Though in fairness, that may be stiffer wood than he's seen in a while.
Zippy the Pinhead, 9/22/09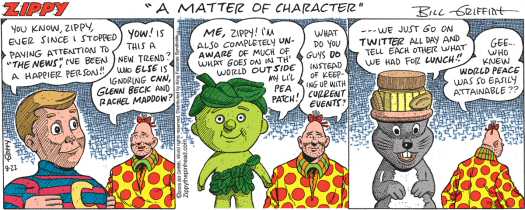 Zippy discovers Twitter!
Ziggy, 9/22/09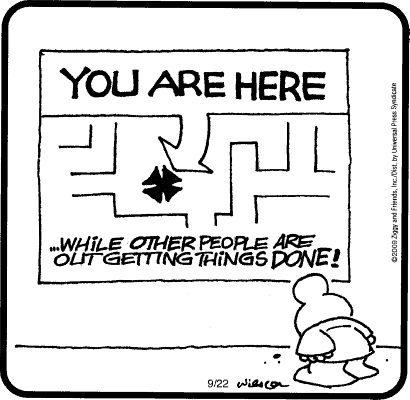 Ziggy discovers blogs!

---
Margo Moments — a Fall Fundraiser special, part 2

Apartment 3-G (panels) — 3/22, 3/26, 4/8, 4/16, 6/11, 6/28, 7/27, 9/18, 9/23/2006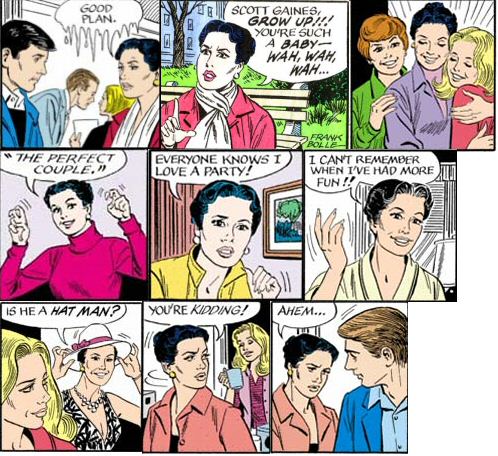 ---
What would Margo do? Contribute to The Comics Curmudgeon? Well, probably not — but you can! And we'll rush your "What Would Margo Do?" bracelet to you right away, so you can unlock the power of Margo in your life!
— Uncle Lumpy